"Dude, it's gonna be crazy up there."
"It'll take two hours to get up the gondola."
"I wouldn't even bring my board if I were you ..."
These were just some of the negatives snowboarding friends hurled my way as they learned I was heading up to Whistler during the first week of the Olympics. Well, I've been in Whistler for six days and have ridden fresh pow ... Every. Single. Day.
If only they knew...
The clincher is that lift lines have been considerably shorter than they would be on a regular weekday in February up here, meaning runs and features that would normally get ticked off by faster riders than me were still ripe for the picking at 10, 11, noon and later. There are plenty of people around in the village (and enough cops to start your own army) but the hill has been eerily un-congested. A number of the crustier locals seemed to have deeked out, assuming that the skiing would suck during the Games.
But, alas, day after day has been getting better and, when I climbed into the Whistler gondola on Feb. 13 (no line at 9 a.m.) with legendary local skier Dan Treadway, I knew that riding here during the Olympics was no mistake. Neither of us could shut up about how good it was getting and how few people there were to fight for fresh tracks. I thought about trying to follow Treadway off the gondola but, flipping through my mental picture-book, I saw that most shots of Dan involved 50-foot cliffs and serious exposure.
Unlike the warm and wet conditions plaguing Vancouver's Cypress venue, site of the Halfpipe and Snowboard Cross events, the snow in Whistler, 75 miles north, has been building daily, filling in any left over hard spots. Valentine's Day was a straight massacre: Two-and-a-half feet of snow in the last week and eight-to-10 inches of perfect snow falling overnight. I kept waiting for the crowds to get ugly on Valentine's Day, as they were starting to at village restaurants and coffee shops, but the gods kept on smiling on me.
Without even trying, I walked on to Blackcomb's Excalibur gondola and was maybe the 20th guy up the hill. Cabin to myself. I had to look around to make sure that, yes, this was a legit powder day at Whistler-Blackcomb in February -- during the frickin' Olympics. I felt like the universe was messing with me.
I rolled down to Jersey Cream, often one of the first sub-alpine lifts to open, and got the sixth chair up, enabling me to knock off one of my favorite pow slots, "Rookie & Me." (It's not on the map but it's just past "Cafe Cliffs.") Now I'm no Nicolas Mueller but popping off those little steep-angled pillows and slashing the deeeep pockets next to the trees on my way back down to Jerz felt -- dare I say? -- Mueller-esque.
And then it got better. Glacier Express opened with a decent line forming and the snow in the bowls and gut looked like the kind of pow you'd shoot a heli-ski brochure in: Lightly whipped by gentle winds, aerated, not too wet. Perfect. An older local skier I was on the lift with was shaking his head like he thought he might be going crazy. Nothing was tracked. Clearly all the Olympic tourists were choosing to stay down in the valley. The sun was starting to burn off the last layers of cloud. I'm pretty sure I heard harps.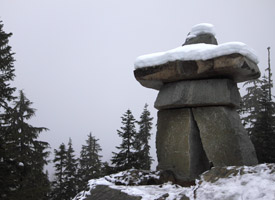 I kept straining over my shoulder to see if the predictable group of 10 tourons was coming down the long gut shot I wanted to rip looker's left. (Heavenly Basin is the most obvious drainage by far and is usually moguls by 11 a.m.). I got to the top, rallied down as fast as I could and found myself looking down at the kind of run people pay $1,500 a day to ride in helicopters. Everyone went somewhere else! No matter how fast I went or how hard I roosted my trusty new Magic Banana, I couldn't feel a touch of hardpack underneath this world class pow. I realized midway through that I really could go as fast I wanted -- and that's not the kind of feeling I'm accustomed to when riding at resorts. (Ask anyone: I'm kind of a wuss ...)
When "Spanky's Ladder" opened up, I was already two hours into the best day I've had there since the early '90s -- and Whistler's a place I lived in for 15 years on and off. I was riding solo and strategically ignoring my phone unless it was to exchange info with other riders who could appreciate the glory. Spanky's is a short hike but, as the line-up is "spockable" from Glacier chair, it's a high profile access point that sometimes turns into a junk show.
I climbed "Spanky's Ladder" and was the 23rd person (yes, I counted) into the controlled-but-wild "Ruby" and "Sapphire Bowl" zones. Some of my most memorable powder runs on Blackcomb have been in Ruby and Sapphire but Valentine's Day 2010 mid-Olympics trumped them all. The sun came out and illuminated the fresh coat of whitewash that lay over everything. The wind had sculpted interesting waves and rollers anywhere you looked, setting up high-speed fall-away bottom turns, each punctuated by a hack or slash on the frontside.
Even eating it off a dumb little rock at speed and smashing my shovel into my arm couldn't begin to muddy a day like this where everything lined up like dominoes and fell exactly as I wanted. I ran into an old snowboarding friend in the village on my way down in the afternoon and he asked me how it was up there. I told him it was like 1992 all over again: No crowds, no hassles, as much snow as you could handle, and what felt like a 21 year-old smile on my 38 year-old face. I think I'm going to lobby the IOC to hold the Olympics in Whistler every winter.