WEST VANCOUVER, B.C. -- Australia's Torah Bright won the gold medal in the Olympic women's halfpipe Thursday, defeating American Hannah Teter during a pressure-packed second run.
Bright fell during her first run of the finals, meaning there was no room for error the second time. She stuck all five of her jumps for a score of 45 points, 2.6 better than Teter, the defending Olympic champion.
"I was like, 'Oh well, can't change that,'" Bright said of her first run. "I got up to the top and I tell myself the same things going into any run, any event. It's just to have fun." American Kelly Clark, the 2002 champion, won bronze.
Bright, the 23-year-old originally from Cooma, Australia, won without trying the "double cork," a double-flipping jump she had been practicing all year. The jump is increasingly popular among men but has not yet been tried by a woman in competition.
But winning was more important Thursday than making history and Bright was more than good enough to do that on a night when all the other top contenders fell.
That included 2006 silver medalist Gretchen Bleiler, who fell once while trying her inverted 720 on the first run, then again on the second when the nose of her board caught the lip and she landed hard then crashed back into the halfpipe.
Bright fell on her first run while she was trying a switch-backside 720, a two-spin jump during which she spends most of her air time with no view of the wall. It's an amazingly difficult trick that most men will not try.
The fall left Bright with a score of 5.2, in last place, which forced her to rush back up the hill and go first in the second round. She dusted herself off, did the same progression of tricks, landed them all, then waited for nearly 30 minutes to see if someone could beat her.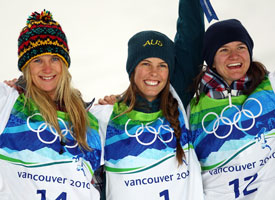 Nobody did, and when Teter closed the night by losing speed toward the end of her trip, giving her no chance to soar high above the pipe, the gold was Bright's.

She shared a long hug with her brother and coach, Ben, and Australia -- a land not known so much for its snow sports -- had its first gold of these Winter Games.

A few minutes later, she received a congratulatory phone call from Australian Prime Minister Kevin Rudd.

"It means every girl in Australia is going to want to buy a snowboard," said Bright's teammate Holly Crawford.

The women's contest was much closer than the men's a day earlier, which turned into the Shaun White show.

Like White, Bright has long had the daring to push the women's side of the sport to a new level; her big problem has been staying healthy enough to do it.

At the Turin Olympics four years ago, she felt her shoulder pull out of joint on the first jump of her first run in the finals and she has suffered a string of injuries since.

While she was fit, she won the Winter X Games in 2007 and 2009.

Finally, she had to submit to surgery. Working her way back into shape for the Olympics, she discovered she could pull off two flips.

She was working on it, but suffered a setback when she slammed her head on the pipe twice over three days of practice at the X Games last month.

Copyright 2010 by The Associated Press This story is from ESPN.com's automated news wire. Wire index »