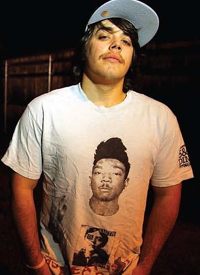 Shoe bump news for two former flow/now pro guys. First up is Jake Seeley, who got the bump up to the DuFFS pro team after being on flow the past few months. Here's the word from DuFFs: "We've been stoked on Jake's riding for a while. He's super technical and creative. Always looking for something different to do, Jake keeps it fun." Look for Jake to be rocking DuFFS and hopefully getting out there on some DuFFS trips in the near future.
Meanwhile, Osiris flow guy Miles Rogoish is now on the Osiris BMX pro team. And unfortunately, out with a torn ACL for the next few months. Here's the word from Osiris: "Although he still needs surgery and can't ride for a few months, Miles will acclimate to the pro life from his couch. Thanks for all of your hard work Miles, and we look forward to more awesomeness when you're back!" Check the video below for some clips of Miles in Barcelona, Spain, including the actual torn ACL clip. And congrats guys. Be sure to stock up on the free shoes while you have the opportunity!
Miles Rogoish on Osiris Pro from Osiris BMX on Vimeo.
xgames.com