Punxsutawney Phil wasn't the only clever little mammal to get some press last week. Remember back during the fight to save Trestles when surfers sided with a variety of environmental and cultural groups? One of the arguments made was the native species that would be at risk with the construction of the toll road and the degredation of the whole State Park area.
Well, when a North American beaver was found at the mouth of the watershed Creek this week, it proved just how many animals depend on this ecosystem.
"This discovery supports our assertion that the San Mateo Creek has a thriving watershed ecosystem that deserves the highest level of protection from its source in the mountains to the ocean," said Mark Rauscher, the Surfrider Foundation's Assistant Environmental Director in a statement, on Friday.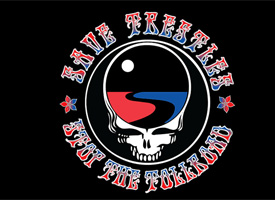 Unfortunately, the beaver was injured when caught and eventually died.
While it is sad that the little guy didn't make it, this is hopeful news. State Park Officials say beaver were a native species, but were thought to be extinct. Should the Transportation Corridor Agency come back for another round, they're now up against lovable little fellas like this one as well. I was a real fan of the clever t-shirts spawned by the movement, up until the last one with the Grateful Dead logo parody. Maybe this will be inspiration for a new mascot and we can put the Dead to rest. Save Trestles (and not just for the wave.)