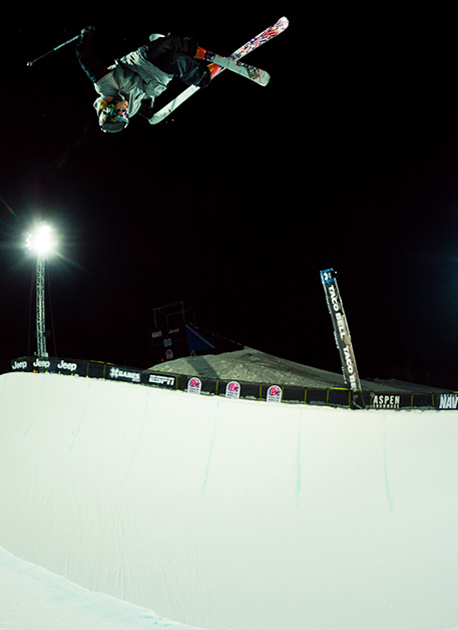 When I go to contests, I am usually more concerned with getting the shot than about what goes down in the judging booth. Still, I thought I'd pass along my picks for WX14 ...
After the first night of practice, nothing is clear except that the pipe is big and long. However, with almost a full week of practice before the men's final, everyone has time to figure out the 22-foot transitions and how to manage what will likely be an extra hit. Unfortunately, there were a couple of big crashes from Mike Riddle (who was already walking around the athlete lounge by the end of the night) and Jessica Cummings (who is off to get her knee checked out). By the way, here's the
TV schedule
for live action, starting Thursday.
WOMEN'S SUPERPIPE
Favorite: Sarah Burke. Um, duh? Defending champion. Dew Tour Snowbasin champion. Legend. Not much else to say.

Darkhorse: The rest of the field. Until someone can show the amplitude and tricks required to match Sarah without some sort of bobble or fall on her part, no field in the X Games is more primed for a Tanya Harding moment.


MEN'S SUPERPIPE

Favorite: Jossi Wells. He's coming off a first-place finish at the most recent Dew Tour, and despite his nagging knee pains and the constant improvement of the entire field -- especially Mike Riddle, Peter Olenick with his Dub Alley Oop flatspin, Kevin Rolland who may potentially throw three doubles in his run, Justin Dorey, and defending champ Xavier Bertoni -- I think Wells can pull it out. He just has to match his fashion game with some serious amplitude.

Dark Horse: Simon Dumont. "Dark horse" is not the right term for someone with six medals in six X Games since 2004, but Dumont is starving for gold (his last was in 2005). Dumont is the competitor who will benefit most from the 22-foot transitions and the long Buttermilk Superpipe (as opposed to the 18 foot pipes at the Dew Tour contests in Breckenridge and Snow Basin).

SUPERPIPE HIGH AIR:

Favorite: Simon Dumont. Always boosty, the world-record holder for "highest quarterpipe air" has also won the best-hit contest at the Whistler Ski and Snowboard Fest -- twice. The start list is not complete -- final picks will be made during Superpipe prelims -- but guys like Rolland, Margetts, Dorey and Riddle are all itching for a chance to take down The Dumont.


Dark Horse: Peter Olenick. After David Crichton, who has a better Alley Oop flatspin in the game? And watching Peter do that trick a consistent 16-18 feet out of the smaller Dew Tour pipes, expectations will be big for the hometown favorite in Sunday night's final spectacular.


Competition Schedule
Wednesday 6:30 pm- 8:30pm Skiing Superpipe Women's Elimination
Friday 4:30 pm- 5:30 pm Skiing SuperPipe Women's Final
Saturday 5:00 pm- 6:30 pm Skiing SuperPipe Men's Elimination
Sunday 5:00 pm- 6:30 pm Skiing SuperPipe Men's Final
Sunday 7:30 pm- 8:00 pm Skiing SuperPipe High Air Final