At Winter X13, snocross racer Ross Martin thought he "just" dislocated his right hip when he crashed in practice. After all, he had dislocated joints in the past, and this felt the same. On the ground pounding the snow in anger as course officials attended to him, he certainly wasn't expecting to miss WX13 and more than half of the '08-'09 National snocross season and spend more than six months recuperating.
But so it was for the 2006 Winter X SnoCross bronze medalist from Kansasville, Wisc. On the first uphill section of the track, he had soared over the 80-foot step-up jump and tried to triple the three whoops leading to the top of the track. He didn't clear them.
"My sled just ran out of power making it all the way over," he says now. "I did [the jump] like four or five times before and the snow started getting blown away on the landing and it was just pure ice. I came up a little bit short and when I landed I ended up flipping over the handlebars and just landed on the ice with my knee. I've dislocated my [right] shoulder quite a few times so I knew it was a dislocation, but I kind of just figured I'd go to the hospital and they'd put it back in."
But when the 25-year-old got to Aspen Valley Hospital he was told that the injury was severe and that he needed surgery because his right femur broke through the back of his hip joint and fractured the socket in his pelvis. He was airlifted to a Denver hospital, stabilized and finally flew to Rochester, Minn., to have surgery at the Mayo Clinic about a week after the incident.
Martin spent three months on crutches. It wasn't until mid-August 2009 that he was cleared to resume some of his normal activities. "The doctor told me I was clear, but he said don't take any large impacts," Martin says. "He's like, 'For example, don't jump off the back of your truck onto the ground or something like that.'"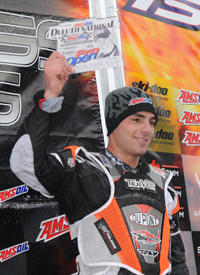 But Martin was itching to get active, so he hopped on his bike. A longtime motocross rider and racer, he started doing laps and jumping in late August 2009. Over the next month -- leg and hip still sore -- he competed in five local races near his home in Wisconsin.
"I was definitely pushing the limits," Martin says. "My leg was pretty sore. It was pretty tough on it. The doctor couldn't even believe I was doing it. He said it takes most people over a year to even start thinking about doing stuff like that."
Now fully healed, Martin returned to the National snocross series for the 2009-10 season and has been hot. In six National series finals through January 20, 2010, he's collected four podiums, three second-place finishes and a third, second-most Pro podiums behind Tucker Hibbert's five wins.
It's really no surprise that Martin is back to posting top results. Longtime snocross observers have noted that he has perhaps the rawest talent of any snocrosser other than Hibbert.
From '05-'06 to the end of '07-'08, Martin was statistically the most successful Pro-class rider. He scored 27 podiums, including 13 victories, in that span. He also claimed Pro Open points titles in '07 and '08, making him one of just five snocross athletes who have earned multiple points titles since 1997. He's in good company, too. The others? Blair Morgan, Hibbert, Robbie Malinoski and T.J. Gulla, all of whom are also WX SnoCross medalists.
At Winter X, Martin has made the final twice in four tries -- netting bronze in '06 -- and will be a medal contender at Winter X14. In addition to his top-level racing skills, Martin has another advantage: During summer '09, his team, Judnick Motorsports, partnered with Hentges Racing. Now the squads are sharing information, and Martin is benefiting from the Hentges Racing Crew Chief Tim Bender, a snowmobile oval racing legend and highly regarded engine tuner. Bender built the mod engines Martin and teammate Matt Judnick now use, and both drivers have praised Bender's expertise.
"Our sleds are definitely better than ever," Martin says. "With us being teamed up with Tim Bender I think our sleds will be running pretty good [in Aspen]. He's definitely one of the smartest guys I've ever met. The stuff he comes up with is unbelievable. We have a really good chance."
Of course, Martin also knows that he'll have to contend with Hibbert, who is gunning for his fourth straight Winter X SnoCross gold medal and fifth gold overall. But that doesn't faze Martin; he's confident something could change soon, perhaps at Winter X14.
"Hibbert will be beat," Martin says. "In my eyes, it's just a matter of time of when it will happen."