Stian Sivertzen achieved a career highlight by earning bronze in the 2009 Winter X Snowboarder X event. He nearly died just weeks later.
After Winter X, the 20-year-old traveled to Cypress, CAN, for an FIS World Cup event held on the 2010 Olympic course. He got the holeshot in his first heat but lost speed and positions. While trying to catch the pack, he overshot a landing, crashed and landed on his chest.
Most of the young Norwegian's injuries became apparent once he was in the ambulance. Stian broke his collarbone, had a tear in his aorta and cracked his pelvis, neck and lower back. He had operations on his collarbone and aorta and spent a week in the hospital in Whistler and then a few more days in Vancouver before transferring to a hospital in Norway.
However, his aorta twisted during his first operation and doctors in Canada didn't notice a vein was being squeezed. A clot went to his brain, and he had two epileptic seizures when he returned to Norway. During one, he fell and was helicoptered to Ullevål Hospital, the largest hospital in Oslo.
Sivertzen suffered a stroke, had emergency surgery on his aorta and was in a coma for five days. His condition was critical. "It was kind of like a dream," he says. A very bad one. When he woke up, he had no feeling in his left leg. While the feeling returned the next day, his balance was bad.
He spent four months between the hospital and Sunnaas Rehabilitation Hospital. During that time, he had to learn how to walk again. Yet just nine months later, in fall 2009, he said he's in better physical shape than he was in before the accident, and he was back on his snowboard in August.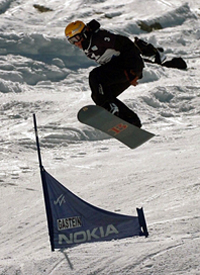 Sivertzen's first contest back was a Europa Cup halfpipe comp in October 2009 (he finished 31st). He says he's mentally stronger since the injury and all of the rehab he had to endure. His first post-injury boardercross race was in December in Telluride, CO. He finished 55th, but he was back.
The 2007 FIS World Junior Champion, Sivertzen won his first FIS World Cup in 2008. A great all-around rider, Stian is a member of the Norwegian Boardercross National Team and trains in halfpipe, slopestyle and boardercross, spending his winter in Summit County, Colo. He won his first slopestyle contest in September 2008 (South American Cup, Chapelco, ARG). In Snowboarder X, he's proven strong out of the starting gate and in head-to-head situations.
A popular athlete in Norway, he was nominated in 2008 as "Male Snowboarder of the Year" by the Norwegian Snowboard Federation and Norwegian outdoor life magazine "Fri Flyt." His mother, Ellen, played volleyball on Norway's national team when she was young.