Last winter Nima Jalali, Mikey LeBlanc, Darrell Mathes, Justin Meyer and the brothers Hakker (Lance and Mike of Ashbury fame) founded Videograss. They were fed up with the look and feel (or lack thereof) of most of the other snowboard videos, so they set out to make the kind of flick they wanted to watch.
And that's exactly what they did. Their first self-titled video was raw and presented a real representation of their lives and styles. The antics are filmed on Canon Elph cams. Slow-mo is used for comic relief instead of dramatic effect. There are dudes slamming brews and all kinds of clips of weird-looking innocent bystanders. And, most importantly, there are so many hammers dropped that you should probably be wearing steel-toed boots when you watch it.
It's a welcome departure from the over-produced videos saturating the snowboard video market today. And if their nomination for Video of the Year in TransWorld's Riders Poll is any indication, a lot of fools are down for it.
I quizzed Justin Meyer and Nima Jalali about their approach, the crew and the current state of snowboard movie-making while on a rail trip in the middle of America last month.
Read the interview after the jump. For photos from the Videograss trip to middle America in January, click here.
Justin, what kind of movie did you set out to make for Videograss?
We just wanted to make the kind of video we wanted to watch. We wanted something that was raw. We didn't want to concentrate as much on production. We just wanted to focus more on the snowboarding instead, because that's where a lot of snowboard videos were going -- it was all about the dollies, slow-mo shots and techno music. We just wanted good music and good snowboarding.
Is it rewarding to see how hyped people were on the movie?
It's awesome that people notice, but at the same time, I feel like not that many people saw it. I guess it's hard to tell. (Nervous laughter). When you're making a movie, it's hard to know if anyone is really hyped on it. You make something, but you don't really expect anyone to be hyped on it. But yeah, it's really cool if people like it.
How has this season compared to last for filming and stacking footy?
It's been a lot more work. Last year I think I'd only gone on two trips by this time. And this year I think the only day that I haven't hit record was Christmas Day. And everyone's doing way better this year than last, so it's looking awesome.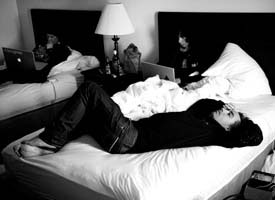 Who is on the crew this year?
We got Darrell [Mathes], Nima [Jalali], Mikey [LeBlanc], Louif [Paradis], Ben [Bilocq], Alex [Cantin], Jonas [Michilot], Jed [Anderson], [Chris] Grenier, Johnny [Miller], [Jon] Kooley, Jordan [Mendenhall], Will [Tuddenham], Justin [Bennee], Laurent [Nicolas Paquin] and Nick [Dirks].
What's the best thing about working with all these guys?
I just like watching all these guys snowboard. If I were to pick a group of guys that'd I'd want to see, it's all these dudes. And I think that without our video they would all be spread out in three different movies. So now I feel like you can watch all the best video parts in one video.
And not have to skip past any?
Yeah. At least that's the goal. No skippers. That would be awesome.
Nima, why did you want to start a video company?
Because we hated every snowboard video -- we hated every snowboard video a lot. We would watch videos and just cringe, listening to their music and ...
Justin: Not every movie, just a good portion of them.
Nima: Okay, yeah I'd say 90 percent. What's a snowboard video you like start-to-finish, Justin?
Justin: I like what Burtner does. And Carlino. I think those two do really cool s---.
Nima: Alright, okay, I'll reword that. I think we just had a really different vision of what a snowboard video should be. And we thought we could make a really cool one, the way we wanted it to be.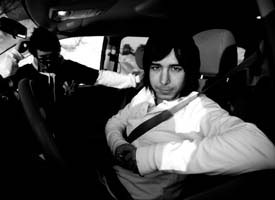 Is it challenging financially to make a snowboard movie these days?
It wasn't really a problem for us last year. The right sponsors wanted to be a part of it and people know that we're making a real video and it's good for their company to get their riders in there.
But are you guys making much money off of the movies?
No. Snowboard videos are never something you make money off of. We have a little money left over from last year and that's just getting dumped into this year's movie. And at the end of this year it's not like we're just gonna have a ton of money to put in our pockets. It'll all just go into paying the filmers more, taking better care of them. But the whole reason we did this isn't to make money, it's just to have the video that we want to see.
xgames.com