ESPN.com/Action contributor and staple FMX photog Chris Tedesco is a hard working dude. Seriously, homie doesn't stop. Since he's been shooting so much lately and accumulating gigs and gigs of photos, Tedesco realized that he needed to update his website, making it searchable and overall more user friendly. If you love photography and you're looking to kill some time during your nine-to-five, pay the new TedescoPhoto.com a visit. Just be sure to NOT go to ChrisTedesco.com ... as it turns out, Chris has a long-lost brother that gets down on the trumpet. You can hear his ill jams by clicking here. There must be a full moon out or something.

To make him feel more important than he really is, I hit up Tedesco to get the lowdown on his site switch. Enjoy.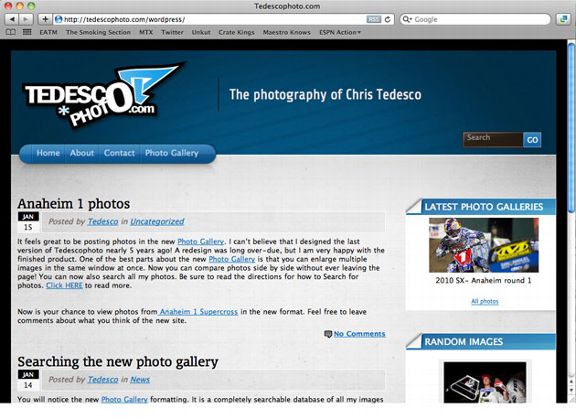 Tell me about your new site. Why'd you update it? Are you trying to take down Garth Milan and Simon Cudby?

Who are they? They must shoot rollerblading. [laughs] Just kidding, of course. It would be hard to take those two down, and that is something I wouldn't want to do. They are two of the best in the business. Both have been very influential in my growth as a photographer. Thanks guys!

As for the site, I first built the site when I was a bored and confused college student at Rutgers. I guess time really does fly, because it has been nearly five years since then. The site needed an overhaul really bad. I have so many images on there, that it can be hard to find them all. Making the new site fully searchable was a must. I am excited to see what doors the new site will open for me.

Do you get a lot of FMX fans coming to your site to simply browse your photos?

It is hard to say what photos of mine bring in the most traffic, but I can tell you that Tedescophoto.com has a world-wide reach. It is viewed by 24 countries a month, not including the US. I like to think that people come to see all my work, and not just a small portion of it. With the new site, I plan on adding more content that isn't Motocross based.



Like what else do you shoot? I thought you were a one-dimensional moto photographer with limited skills ...

Hang on, let me adjust my flat bill hat ... psyche! I love shooting just about anything, but when I'm not shooting action, I shoot portraits as often as I can. Something about capturing a person's raw emotion is truly rewarding. Sure, anyone can smile for the camera, but what are they really feeling? I like to bring that out of people. Anything culture related interests me, as well — I want to travel the world more when I get free time and capture it all with my camera.

Are your parents disappointed that you turned out um ... "soft and artistic"?

[laughs] My parents and family are 100% supportive of what I do. My mom helped get me to the races and FMX events when I was younger — she was the original "Moto Mom." When I was 16, she booked me a flight and hotel so I could shoot the 2000 X Games in San Francisco. Wow, this year will be my 10-year X Games anniversary. I'm old!

Yeah you are ...