Welcome to 2010. Did you make any New Year's resolutions? And have you broken them yet? (Mine was to be out of bed before 7:30 every morning — woops.)
If you're in the ski business, the New Year might not feel all that new. After all, it falls smack in the middle of the fiscal year. New or not, we still get into the spirit of the season and make a pie crust promise or two to commemorate the coming and going of another January 1. Read on to see what some of your favorite skiers resolve for 2010.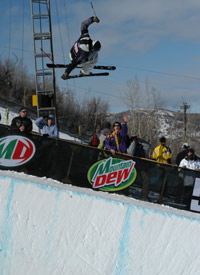 CR Johnson
My resolution is to pursue clothing design, starting with a Cali P suit this month. Cali P is cutting his LP in Kingston, Jamaica, and I am going down there with Tanner to sit in on it. I am going to bring him his suits and the clothing company is on from there!! Outerwear, clothing, it all is happening starting now.
Angeli VanLaanen
I'm just going to take it as it comes in 2010! My resolution this year is to not have a resolution this year — except for that one.
Gus Kenworthy
My New Year's resolution is just to finish high school on time. Ha!
Grete Eliassen
My New Years Resolution is to ride the UTA Bus to every football game next year and learn how to use TRAX to get downtown from my house too.
Chris Benchetler
No resolution — you can't change perfection.
Michelle Parker
I don't normally do New Years resolutions. If there is ever something that I really want to do, I should just do it. But if I tell someone that I am going to do something then I am more likely to do it. So I suppose I will make a resolution now and share with everyone what I resolve to do in the upcoming year. My New Year's resolutions are to work my little butt off in the gym to get back on snow and then to continue that drive throughout the season; to be better about stretching; and to get rid of unnecessary things (like my blow dryer), buy less, and make stuff last.
Ahmet Dadali
I'm not going to get blackout anymore.

I take that back, actually. I'm just not going to get blackout as much as I did in 2009.
Ashley Battersby
I'm going to do the opposite of Ahmet and get blackout. Every single day.
Cody Barnhill
My New Year's resolution is to wear my helmet more often — too much crashing lately.
Anna Segal
I'm quitting coffee. I want to be able to take more than three runs in the morning without needing to pee!
Blake Nyman
My resolution for 2010 is the same as last year's resolution: Learn a new language.
Dania Assaly
Stay healthy and positive always. And ski more backcountry!
I want to try to start making money either skiing or doing music. Either would be bangin' — both would be even better!
AJ Kemppainen
I'll try my best not to pour too many drinks on Matt Margetts this year. I might also change my underwear every now and then.
Keri Herman
My New Year's resolution is to get in better touch with my creative side and paint more.

Party on, everybody!
Colby James West
My New Year's Resolution is to retire each night promptly at 11:00 p.m. I realize that my new issues of The Economist and The Atlantic aren't going to read themselves. But who's going to appreciate their poignant subject matter and intelligent analysis of pressing world issues if I'm grumpy from an insufficient night's sleep?

Also, I saw this on a bumper sticker while traveling to the Museum of Modern Art for the unveiling of the new Hodler exhibit and I found it brilliantly apropos of myself and my life:

Live. Laugh. Love.

And win.