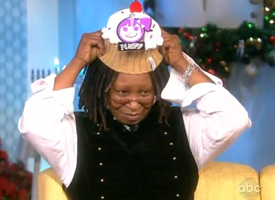 Before they expanded into other ventures, as they have in skate, Neff Headwear was a snowboard brand first. The roster of riders they support is a long one and includes Darrell Mathes, Torstein Horgmo, Scotty Lago, Louie Vito, and many others -- too many to list here. They even sponsor Nate Bozung who, at this stage in his career, you might call it a "personality sponsorship." But sponsoring a personality isn't exactly a reach, nor a bad business move, and this is precisely what they have going with rapper Snoop Dog. And though the question here isn't whether or not Bozung is proving his value, it's clear that Snoop Dog is.
Take Snoop's recent appearance on ABC's daytime show, "The View." When Snoop came out, he delievered Christmas presents to each of the five female hosts. And what were those presents? To Barbara Walters, Whoopi Goldberg, Elisabeth Hasselbeck, and Sherri Shepherd he gave ... yes, Neff Cupcake beanies. "When we heard Snoop was going to be on the show, we were like, 'Dude it's the holidays you should give them a present,'" says Chip Neff, the brand's marketing director. So they took one of their best-selling women's beanies of this season, a beanie that looks like a cupcake, complete with sprinkles and a cherry on top, and personalized them by embroidering each of the hosts' names.
Only one host, Joy Behar, didn't get a beanie. Instead she got a pair of Skullcandy headphones -- yes, Snoop's signature model Skullcandy headphones. With his new album, of course.
While the Skullcandy headphones are currently available for purchase, Neff's collaboration with Snoop won't hit stores for another four months. "We are working on exclusive headwear pieces with Snoop," says Neff. "It will be a collection of pro-fitted hats." Until then, Snoop is bringing the brand into the living rooms of stay-at-home moms everywhere. And Neff has to be happy about that.
Snoop Dog gives the gift of Neff on "The View":
Via Boardistan.