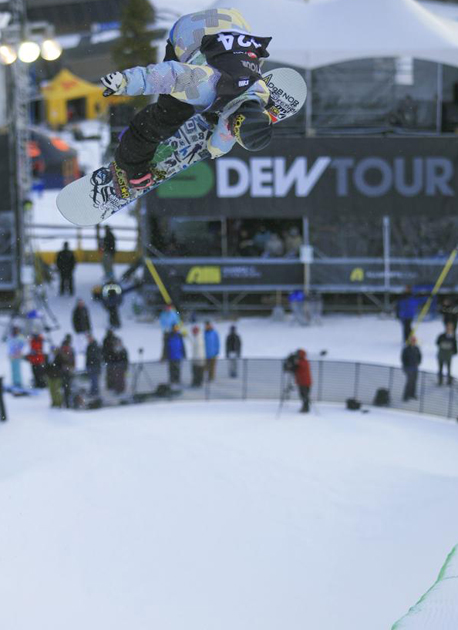 With the first of the three-stop Dew Tour jumping off in Breckenridge this week, the question isn't so much who will win the kickoff event for one of North America's largest commercial snowboarding competitions, but who will actually compete.
No, it's not a global warming induced lack of snow, or deficiencies in sponsor support hindering the start lists in Breck, it's a matter of inches. Actually it's a matter of feet. With the pipe at Breck measuring 18 feet -- as opposed to the Olympic standard 22 feet -- several of the major Olympic contenders are opting to skip the Breck halfpipe comp so as not to throw off their training for the Games in Vancouver. Terje would not be proud. But then again Terje would probably not be competing at Dew Tour either.
Prominent riders and Dew mainstays Shaun White, Louie Vito, Kelly Clark, and Gretchen Bleiler, all of whom placed first and second at last week's Grand Prix at Copper, are among those choosing not to take their chances on the 18-footer, even though Vito and Bleiler were initially included in pre-event publicity. "Louie has so much riding on the line right now that all of us in his inner circle have all strongly suggested he keep his eye on the prize, which is making the US team and bringing home the Gold in Vancouver for the USA. That being said, Louie has made the decision to concentrate on training for that specific goal and not risk injury entering into an event where the conditions are varied from what he has been training on," commented Todd Hahn, who is Vito's manager and VP of The Sports Syndicate agency.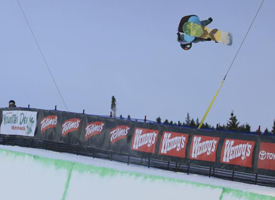 Echoing that point, Adam Moran, Burton Global Team Manager said, "Some of the riders that are going for the Olympics want to continue to train and ride in 22-foot pipes only, since a lot of the tricks they are doing are safer there." U.S. Team Snowboard coach Bud Keene was slightly more direct when he was quoted in the Denver Post this week as saying "It's counterproductive to use even an 18-footer. The 22-foot pipe is the Olympic standard, and that's where we want to see our riders focusing their training."
However, not all riders with Olympic aspirations are skipping the Dew. Both Danny Davis and Mason Aguirre are set to compete with Aguirre taking on double duty in both the Superpipe and Slopestyle disciplines. In their cases, though, it seems likely that sponsor affiliation, Totino's Pizza is a presenting sponsor and counts both Davis and Aguirre on their team, is playing a major part in their participation. In Davis' case, he has perhaps double sponsorship obligation, as he is supported by both Totino's and Mountain Dew.
Whether the pipe situation at Breck diminishes any of the drama during the Finals on Saturday, or adds to it, remains to be seen but the Slopestyle is still looking to be rather epic with Torstein Horgmo, Scotty Lago, Aaron Biittner, Andreas Wiig, Halldor Helgason, Lonnie Kauk, and Charles Reid highlighting the men's field and Jamie Anderson, Spencer O'Brien, Kimmy Fasani, and Channelle Sladics repping for the ladies.
The Breckenridge Dew Tour will air on NBC, USA, and MTV2 this weekend, check your local listings for times.