These days, the top pro FMX riders are either on Honda's, Yamaha's or KTM's (mainly in Europe.) But more and more, you're seeing the Honda riders make the switch to Yamaha YZ250's. Why? Well not only are they amazing bikes with great engines and handling traits, but they're still being made. I sat down with Mike Mason to talk about his decision to go blue. Peep.


So, what made you make the switch to Yamaha's?

Yeah, it was just time to switch. I didn't want to — it's not that I don't like Honda's. My bikes at home are bitchin' and I got a bunch of them and they're fun to ride, but the Honda's overseas are just too sketchy now. Like the bike I had in Australia for the Crusty Tour was just ridiculous — I was just hoping it would make it through the five weeks. And the Honda's in Europe ... it's just too much risk, you know?

Why are Honda's so bad overseas?

Well, the last year you could buy them was 2007 and there's not that many people over there that even have 2007's, so I'm riding '05's and '06's. These bikes are community bikes and you get a kid that thinks burnouts are the sickest thing ever, so he's burning the thing out and frying it up and then when I get to it, the thing's just a nugget — so it's just time to make the switch.

Is Adam Jones calling you a biter?

He better not! Jones bit everyone else, so he's just gonna blame this on me like he's the cool guy? He's the biter of all ... [laughs] No, I'm sure everyone's going to think I switched because he switched, but it's not that — I made the decision a couple weeks ago when a ramp in France was set at 78 feet and I couldn't make it, so that's when I knew it was time to switch.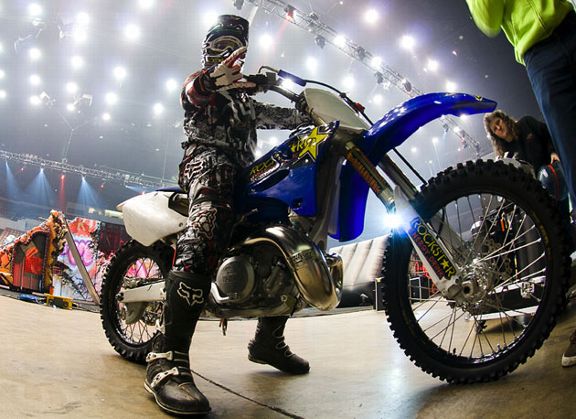 So do you plan on keeping it stock blue, or do you have some elaborate plan to change the scheme of the bike?

No, I think I'm just going to leave it blue because I don't wanna have to deal with the tank. Like Twitch's bike looks ugly as hell in Europe because it's got a blue tank and at home he's got a white tank, so his graphics look ugly as hell with the blue tank underneath. No I'm just joking, but no not really ... [laughs] No, I'm just gonna go blue and black — I think it'll look sick. No plastic change, like it'll all be blue, but my graphics are pretty much going to be the same as on my Honda's, except where it was red, it's going to be blue. And of course black rims ... just keep it tight looking, keep her nice.

It'll probably re-motivate you and make riding fun again. It's always fun to have a new bike and look.

Yeah, I was just talking to Twitch about that. It's kind of cool, I've got a lot of changes coming up for next year and I think I need it. I've been riding Honda's for the last 12 years or something like that, so all I've ever done freestyle on was a Honda. It's going to be cool to have a different bike. Like even when I look at pictures — I could be doing a double grab, but I'm going to be on a different bike — it's going to be cool looking. Yeah, so hopefully it gives me some new motivation to stretch this career out a couple more years. [laughs]