Although most of the attention from the huge Ida, nor'easter, Nor'Ida — whatever you want to call it — mess was focused north of the Mason Dixon line, up in gloves and boots territory, certain spots in Florida really benefited. Granted, the Sunshine State didn't get dredging double ups and black water bombs, but they got waves. And there wasn't road washouts, beach damage, and crazy debris floating in the line-up. It was just warm, blue, groundswell.
We managed to get a few FL shots in the Storm Tales Gallery.
Greg Panas shot this video of Oliver Kurtz, Evan Thompson, and Ryan Helm teeing off on some fat walls.
We also got this little sequence from Chris Wilson .
"What's this?" you ask, "Slater preparing for Backdoor with Space Coast head dips?" Not really. It is important to point out that barrel riding skills aren't just tested on reefbreak gapers. The best tube masters get slotted when there isn't even a tube, like Slates here. And notice how long he holds it? I had to cut eight frames of the cover up to make it fit.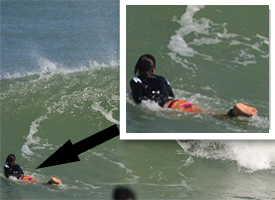 Don't beleive me, just ask Florida pro shredder,
Connie Arias
Connie Arias. What this sequence doesn't show is Connie duck diving out on the shoulder. Wonder if she had any tips for him when he emerged? Figured I'd give you the full taste of Florida in November. Enjoy. Looks like another one might be cooking up
in the Gulf
right now.