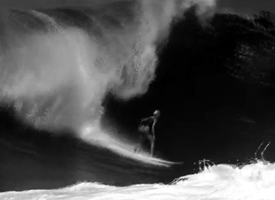 I'm not going to lie to you. Some of the sights on the beach at Pipe are as amazing as those in the water. During the season, there are few places in the world where you encounter so many gorgeous, interesting, and healthy ladies enjoying the sun and sand.
But today's video is something even better, a couple of Oahu females fixtures who aren't just lounging in the sun. They're out there charging ten-foot Pipe and Backdoor. These bikinis top any of the groupies hanging out in front of the Volcom house.
Here, courtesy of Surf Shooter Hawaii. , we have Keala Kennelly, Claire Bevo , and Maya Gabeira, "busting moves" at the famed, fanged reef breaks. They have guns and guts, and they don't need you to put sunscreen on their backs, so move it along, Barnyard.
It was a big confidence booster for KK, who got lip launched at Pipe on that September swell and wound up in the hospital.
"It was tricky because it was peaking up all over the place and really jacking up on the take-offs. Even though I wasn't super happy with my performance, I was happy that I made pretty much all of my drops that day because that is the most difficult thing about surfing big pipe," she admits.
(And the music kind of reminds me of my junior high dance.)
"It was nice to have Maya and Bevo out there in the line-up," KK added, "I think Bevo got a couple that swung wide and some nice barrels that day. Bevo has really been stepping it up every winter at Pipe. I think this is going to be a good winter for her."