The economy has effected everyone this year. Whether it's meant less hours at work and more time to surf, fixing dings instead of buying new sticks, or a healthy diet of Ramen noodles, we've all made some changes. Earlier this year, Hank Gaskell lost his sponsor due to the declining economy and has been without major financial backing.
But Gaskell just won the 26th Annual Xcel Pro at Sunset Beach with wave faces in the 12 to 16-foot range. The lanky, 23-year-old from Hana, Maui was the only finalist under the age of 30 and narrowly beat defending champ Pancho Sullivan at the 2-star World Qualifying Series event.
"This is my last $5,000," joked Gaskell. "I just spent all my money on my quiver. I invested in the Tokoros and they paid off. So, now I got a little money that I can invest in myself again."
Gaskell was baffled when they announced Pancho Sullivan as the runner-up during the award's ceremony. He hopes that this win will catch the attention of the surf industry, in order to lock down a sponsorship so he can travel the world on tour.
"I felt really good and my board was feeling really good," admitted Gaskell after the 30-minute final. "I had two waves that I did two turns on and I just figured that somebody else did better. I was trying to get the middle runner waves and do my own thing."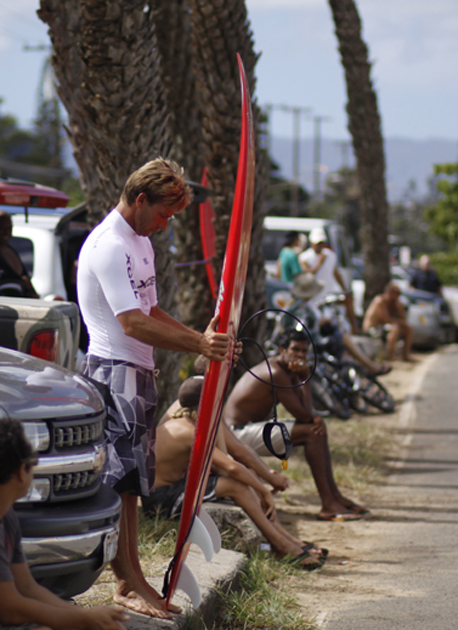 Gaskell's game plan worked out well all contest long, winning every heat he paddled out in. In the process, Gaskell gained entry into the 2010 Von Zipper Trials for the Billabong Pro Tahiti and that much-needed $5,000.
Gaskell's performance at the Xcel Pro is a testament to his competitive prowess and eye-catching style of surfing.
"This is an amazing start to my winter and I've never had a result this good in my life," Gaskell said. "I wasn't really expecting to win this and hopefully this starts a snowball effect. I've been kind of off this year."
If this is how Gaskell surfs when he's "off" then it will be amazing to see what he does when he's "on," especially if it's during the Vans Triple Crown of Surfing. With this win, he is guaranteed a spot in the O'Neill World Cup of Surfing at Sunset Beach. In addition, he is also invited to Reef Hawaiian Pro at Hale'iwa and qualified for the Billabong Pipeline Masters via the HIC Pipeline Pro.
"I love the Triple Crown . It's my favorite time of the year," said Gaskell. "I've always loved Sunset since I was really young and my coaches, Rainos Hayes and Mike Latronic, would always give me and tips. Even though I'm from Maui the North Shore has always been really important."
26 Annual Xcel Pro presented by Sunset Beach Results
1) Hank Gaskell $5,000
2) Pancho Sullivan $2,500
3) Myles Padaca $2,000
4) Shane Beschen $1,000