Sage Cattabriga-Alosa almost left the house this morning without his gloves or goggles. He did leave without his camera. "First day for me, this stuff always happens," Sage laughs. But he didn't forget things like iPhone, skis, poles and boots. Or how to get to the Alta parking lot. Or how to ski.
As a wintery storm hammers much of the West, Alta, as always, was getting some too: 11" in the last 24 hours. (Sidenote: Elsewhere in the West, in places like Aspen and Frisco, the big ol' storm has been less impressive. "Pindley snow for us as well," Seth Morrison emailed from Frisco tonight. "Better off looking at the radar. Don't believe the hype.")
But the cup is half full in the Wasatch and Sage and a small crew skinned up for two laps this morning (the lifts won't open til Nov. 20-ish).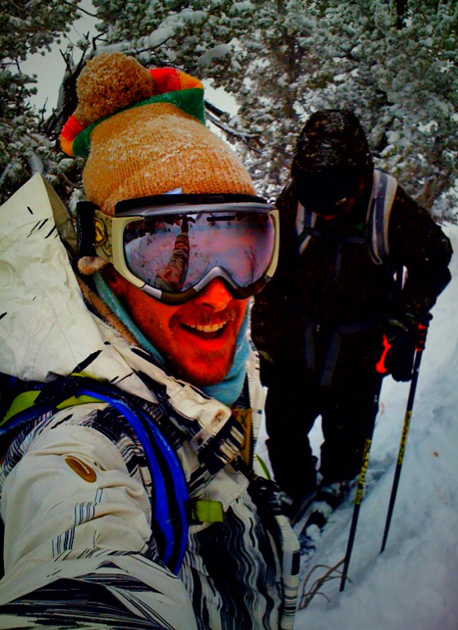 "A foot-and-a-half, probably, solidly, but then in places it's blown in, like I went into this creek gully and it looked flat and I sunk in up to my waist. Whoooaaa. It's pretty light and there's a nice base from those earlier storms. It's good in big open meadow-y places; other places you're skiing right through it to the ground," Sage says.
Count Sage among skiers who count ski days, so he figures to squeeze in another 120-plus more here.
"When I was a kid, my school, they weren't down with me going skiing and missing school. So I'd end up skiing three days a week on average, mostly Targhee. In a month, maybe I'd skip a day of school and then there'd be a half day to get me that third day," he says.
"Then in college [Central Oregan Community College], I didn't have a pass, I was broke and I had to still go to class. So I worked race crew [at Bachelor] my first year for tickets. My second year, I bought a mid-week pass, but I was in school during the week. So I ended up skipping a fair amount. I still don't know how many days I got in during those schooling years, but it wasn't many. It wasn't enough."
Sage moved to Salt Lake in the fall of 2001, which is when the 120-plus day campaign began. "Those aren't exact numbers, but I just know it. It's more for that knowing feeling, knowing how much you're out doing it, rather than chalk marks on the belt," he says.
And so begins another one. And Sage has a good feeling about it. "Yep. I pretty much go with the wisdom that it's always a gonna be a good year at Alta. But I also do like the optimism of it all. 'Oh, it looks like this is lining up for a big year.' Nobody really knows for sure, but you might as well be optimistic about it. And, you know what, I do think it's gonna be a good one."