Just wanted to give a little update on the East Coast mess/swell mentioned earlier this week.
As usual, the swell coincided with substantial weather news, as often happens in these parts. Some areas had Coastal Flood Warnings through eight tide cycles. We aren't even at a full moon and its been quite a mess.
Nor'easters without tropical characteristics are the bread and butter of fall surfing. (South swells are the jelly.) They mark a decisive end to the summer and early fall. Normally we welcome them from the Carolinas through Nova Scotia. Two nor'easters in a week is music to our ears. But in this case, the freaking things were on top of each other. No sooner was one scooting off the Canadian Maritime than the next was winding up off the Outer Banks. Hence, instead of that onshore and building to offshore and firing scenario, we never got that clean up in most places.
The Outer Banks did score, as documented in this video posted on SurfKDH.com.
And as you can see, Mickey '2M' McCarthy snapped a few bangers for us as well. The big news, however, is that the WRV Battle of the Banks, slated for yesterday, had to be cancelled due to road closures. Basically, the ocean overtook the dunes as it does on the bigger off-season maelstroms and anyone north of the wash over couldn't even get to the event. The more protected spots around Buxton did fire, however.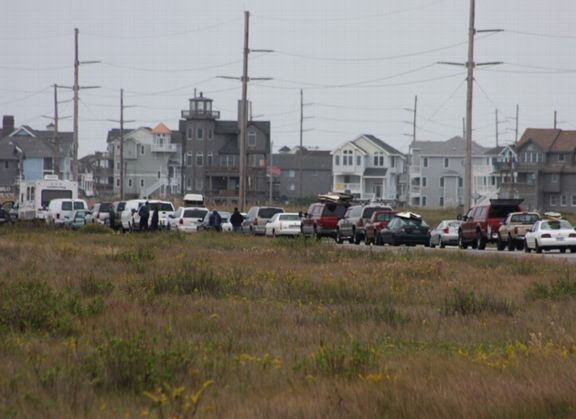 The northeast curse finally relented further north, only to go straight north most of the day. This has worked out pretty well for Long Island, where there hasn't even been much time to dry the 3/2 before the next sesh.
The bottom line for New Jersey was that there was never a clean up after the first nor'easter. It's been relentless rain and onshore winds since Thursday. Our premier north wind spot had peelers up to head high today, and some Ocean City and Atlantic City spots have been getting more favorable throughout the day, but most east facers — forget it. The drift alone has been a deal breaker.
There were a few favorable reports late week from Maine, where the York crew already surfed in blowing snow — in the middle of October.
The whole soggy show should pull out tonight as we finally get some northwest winds. The Smith Optics Garden State Grudge Match will go off at Casino Pier. I predict that tomorrow morning should be pretty solid for everyone, though it will fade fast.
Stick around the site this week when we collect all the digital goods.