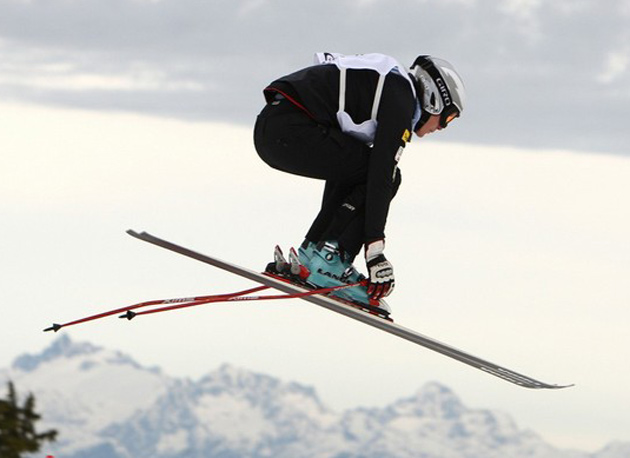 Twenty-four year-old Caitlin Ciccone is no stranger to the podium but, this season, she has her sights set on the big one: the Winter Olympics in B.C.
After a successful, 16-year career running gates — including two years on the World Cup, eight on the US Team, and a US National GS title in '06 — Ciccone (pronounced "chick-COnee;" Madonna's last name) has ditched the strict world of Alpine and transitioned into the rough and tumble world of Ski Cross full-time. But now she needs the money to help translate her dreams into real life. We caught up with the New Hampshire born, Jackson Hole livin' ripper to find out what it is about Ski Cross that pushes her buttons and to take a closer look at her creative fundraising scheme to take it all the way in 2010.
ESPN: Are you still running gates competitively or have you switched to Ski Cross entirely?
Caitlin Ciccone: Yep, 100-percent Ski Cross. I was ready for a change in life and then fell back into the competition.
Are you "officially" on the US Ski Team for Ski Cross going into 2010 or do you still have to qualify in Europe or on the east coast?
I am not officially on the US Ski Team any longer. We have no women on the U.S. Ski Cross team. I did train with them a bit last year and joined the men on the trips. It is all one team because it is so small. I have not qualified yet, [so] it all just depends on how the first few World Cups go before the Olympics.
How was being raised in New Hampshire and in your family a perfect set-up for later competing in Ski Cross?
I always competed with my brother in everything. I had to be better than him, so I think that is why I did so well in Alpine. Ski Cross is that same aspect, but direct competition at every moment [so] you know how you are doing. As far as New Hampshire goes, the effects of the gnarly mountains with narrow trails and icy conditions help in the few Ski Cross races that are injected [with water, to make the course faster]. I did an injected one in Austria that was solid ice.
Tell us a bit about your fundraising efforts to get to Vancouver this winter:
I have been working with a few people that I met at a skiing event last year in Jackson Hole. They both live in NYC and were really interested in my story and wanted to help get me to the Olympics. We have been working together for a few months, putting together an event in NYC. Simply a cocktail party, on Nov. 11, so people can [actually] meet the athlete they are supporting. Part of it will be me giving back to the actual funding; I will be giving people the opportunity to ski with me. I actually love doing this, getting to tell people about skiing and my life and learning about a random person that does something completely different than me but still respects skiing and what I do.
I am looking to raise around $15,000 for my travel and training all year. There are quite a few people out there that just want to see an athlete reach their goals and are willing to reach out and help. Living in a place like Jackson, it is all about telling people. So, anytime someone asks, I tell them straight up what my dilemma is and, nine times out of 10, they have no idea it is money. I have a website for the fundraiser and also a donation button on my personal website. I look forward to NYC and can't wait for the 2010 season.
Have you had much feedback on the fundraiser yet?
I have a lot of people that are very interested and really want to help support a potential Olympic athlete. I also have a lot of people that may not attend the event but really want to help and have still personally supported me. We are expecting anywhere from 50 to 100 people and there is really no way of knowing, but it should be great! We will have a slide show and a few speeches, mostly just an event to get everyone together to meet me and understand what Ski Cross really is — because most people have no idea! We will also have a bunch of stuff to give away and opportunities for people to support me for ski days with me wherever they want.
What's your best showing(s) in Ski Cross so far and how does this compare to the podium success you've seen in GS and Super G?
Since I have only done a few ski cross events last year it is all very new to me. I was in the 20s last year in Europe, but nothing compared to my podiums in Alpine. Although I raced for around 16 years so it's quite a hard comparison. We will see; I look forward to the World Cups coming up in December and you just never know in the sport of ski racing.
How would you describe the difference in adrenaline and risk between, say, a World Cup Super G and a Ski Cross?
In Alpine, it is all up to you. It is just you and the course. In Ski Cross you have to deal with your own skiing ability as well as the other three people around you. The adrenaline is higher in Ski Cross for me 'cause I still don't have that sense of relaxation before I go. You have people around you and it is intense in the gates. The risk I would say is much higher at least risk of crashing or injury just because of all the other variables you add with three other people joining you down a course of banked turns and huge jumps.
Ski Cross seems to have received a fair bit of hype lately. Do you think it's genuinely more exciting to watch compared to other events?
To me, it's one of the most exciting events to watch because you have people battling the whole way down and then it is like watching a whole tennis tournament: Only two people advance to the next heat and so on. So it is non-stop action until the last four come down in the final and one person crosses the line first. The crashing adds to the excitement as well; it happens and that's not gonna change.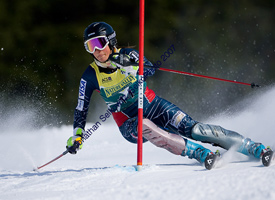 What technical strengths do you think you bring to Ski Cross—apart from having lived your entire life on skis?
I am really comfortable with my own ability so all I have to think about is what the others are gonna do. Although the jumps are a whole new aspect. I am still getting comfortable with different speeds in jumps. The problem is every course is so different you are your own guinea pig every single race. You never know what speed you will need and I can't watch or follow a 200-pound guy and think I should ski it the same as him — I will not clear the jump! You have to figure it all out for yourself, and that's exciting!
So what's your set-up for Ski Cross?
I use the exact same skis as I did for an Alpine GS event: 185 Volkl GS race skis and my boots are a bit softer just cause it is easier on the shins, but still Lange race boots. No other special equipment or wax ... same as a normal race, but always a back protector and a helmet!
You've been skiing more big mountain-style lines since moving to Jackson. How do you see Ski Cross, big mountain and racing informing each other athletically?
It is all just me a pair of skis and my own mind. Skiing gates was like a structure I always had to follow. Big mountain is just free. You decide what you want and you go for it and it is the most amazing free feeling you can ever experience; your own skiing ability determines what you can and cannot ski. For me, not having to think about my skiing ability when I land off something makes me feel confident in the backcountry. And Ski Cross is a bit of a mix but still very structured [in that] you have to hit jumps — no choice — and you have to ski around all the gates.
How do the speeds compare to Alpine?
The speeds are much lower than a downhill, but the jumps are very different and the course is not even comparable. I would say it is a mix between a GS and SG in speed and with DH size jumps.
What's the biggest risk in Ski Cross—other people?
Definitely other people.