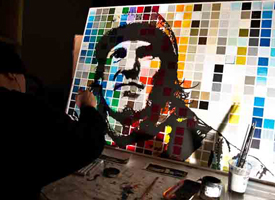 For ten of the 23 years that Jeff Anderson lived, he was a professional snowboarder. He's a guy that had a huge influence on our sport; a style of life-living that continues to permeate what, really, snowboarding is all about, or reminds us at times, what it should be about.
In honor of what would be Jeff Anderson's 30th birthday this November, and to raise money for the JLA Memorial Fund, a group of photographers and artists, along with friends of Jeff and of snowboarding have come together to create an body of work titled called, "I AM SNOWBOARDING."
The concept works like so: One photographer is paired with one artist to create an original 30" x 40" piece. A photo of Jeff, shot by the photographer, has been enlarged onto archival canvas upon which the artist paints or uses any medium to create a unique collaborative work.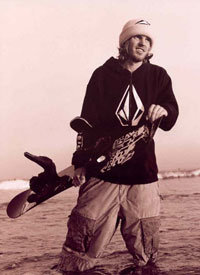 The collection will be released for the first time in The Village at Mammoth, Mammoth Lakes, CA on November 14th, 2009 and will be open to the public for two weeks through November 29th. Opening Reception Saturday, November 14th from six to nine in the evening during Mammoth Mountain's Big Kickoff Weekend.
In addition, limited edition prints will be available online through Asymbol Gallery -- Travis Rice and Mike Parillo's new endeavor that showcases the art and photography that have defined their lifestyle for the past decade. Asymbol is set to launch this November, but Originals will be auctioned at the end of the season. Details are still being worked out, but you can visit www.iamJLA.org for more info. Photographer/Artist Collaborations:
Danny Zapalac and Bryan Iguchi
Cheyenne Ellis and Matty Thompson
Chris Brunkhart and Matt Donahue
Jane Baer and Mark Gonzales
Tim Zimmerman and Mike Parillo
Jared Eberhardt and Michael Jager
Jane Baer and Jamie Lynn
Billy Anderson and RYNo
Shem Roose and Scott Lenhardt
Patrice Miller and Dustin del Giudice
Jeff Curtes and Nick Russian
Todd Hazeltine and 2jaws
Ryan Boyes and Ben Brough
Dean "Blotto" Gray and Shane Charlebois
Jane Baer and Devon Weniger
Stan Evans and Robert "Sticky" Shaw
Jamie Mosberg and Jojo Whitmarsh
Trevor Graves and Adam Haynes
Chris Owen and Tyler Lepore
Billy Anderson and Jamie Heinrich
MMSA/Steven Brown and Peter Stow, Brian Cook, and Aaron Vujicic representing Stormriders