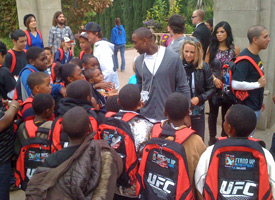 Mingling with celebrities is not something I often do on a Sunday morning, but that's where I found myself this past Sunday, attending Tony Hawk's annual Stand Up for Skateparks fundraising event at grocery magnate Ron Burkle's Green Acres estate in Beverly Hills, Calif.
For someone who is more taken by old movies or the Magik Markers (over a band like Blink 182), the event was odd.
But all the proceeds from this event, with stars I don't know much about, are going to a good cause — the construction of a skatepark in South Central Los Angeles' Watts neighborhood — and that couldn't make me happy enough. Although the stars that I saw or got to interview — Terry Kennedy, Jon Favreau, Tony Hawk, Tom Green, Fred Durst, Jason Ellis, Michael Rappaport, UFC's Chuck Liddell, P-Rod, Jason Biggs, Eric Estrada, and everyone else who attended — were interesting folks, seeing the kids from Watts who will benefit from the park was the best part. It's an underestimated improvement to a neighborhood that otherwise might not get the support it deserves.
Skateparks keeps kids active. They challenge kids to explore, meet people outside their neighborhood, and see what else is out there for them if they keep making the right decisions. Tony Hawk and everyone who came out to support S.U.F.S. and bid on items being auctioned did brighten the outlook for the future.
Take a look at a short clip of what went on.

Return To Full Blog