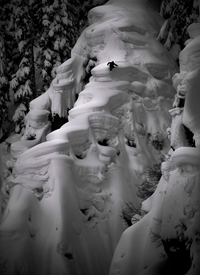 Standard Films is currently touring the country, and if you have yet to make it out for a screening of "Black Winter," you'll find movie premiere listings after the jump.
We've also got an extra copy of "Black Winter," and to earn it, all you have to do is tell us in the comment section below what you think best describes a black winter. Next week we'll have the crew over at Standard Films select what they think is the best answer.
So...what do you think a black winter is all about?
Thursday, October 15th
Standard Films Black Winter
Fifty-Fifty Brewery
11197 Brockway Road
Truckee, CALIFORNIA 96161
Doors open at 7:00 pm
www.fiftyfiftybrewing.com

Friday, October 16th
Standard Films Black Winter & Forum Forever
Xtreme Sports Bar & Lounge
Grand Sierra Resort and Casino
2500 east 2nd Street
Reno, Nevada 89595
www.grandsierraresort.com

Friday, October 16th
Standard Films Black Winter
Sushi Rei
6201 Minaret Road
Mammoth Lakes, CALIFORNIA 93546
Doors open at 7:00 pm
www.sushirei.com

Saturday, October 17th
Standard Films Black Winter & Burton B Movie
Queen Elizabeth Theatre
190 Princes Blvd
Toronto, Canada
www.monsterenergy.ca
All Ages / Doors

Saturday, October 17th
Standard Films Black Winter & Burton B Movie
Sound Academy
11 Polson Street
Toronto, Canada
www.monsterenergy.ca
19 Plus / Doors at 10pm

Monday, October 19th
Standard Films Black Winter
Boarding for Breast Cancer Campus Tour
UCSLB
Long Beach, CALIFORNIA
www.b4bc.org

Tuesday, October 20th
Standard Films Black Winter
Boarding for Breast Cancer Campus Tour
CSPU
Pomona, CALIFORNIA
www.b4bc.org

Wednesday, October 21st
Standard Films Black Winter
IMAX Theatre
393 Portage
Winnipeg, MB CANADA
www.monsterenergy.ca

Thursday, October 22nd
Standard Films Black Winter
Three20South
320 South Main Street
Breckenridge, COLORADO 80424
www.three20south.com

Friday, October 23rd
Standard Films Black Winter
Boarding for Breast Cancer Campus Tour
Champlain College
Burlington, VERMONT
www.b4bc.org

Saturday, October 24th
Steamboat Film Festival
Standard Films Black Winter
Steamboat Grand
2300 Mount Werner Circle
Steamboat Springs, COLORADO 80487
www.steamboatfilmfestival.com

Thursday, October 29th
Standard Films Black Winter
TBD
Whistler BC, CANADA
www.monsterenergy.ca
Saturday, November 7th
Standard Films Black Winter
TBD
Vancouver, CANADA
www.monsterenergy.ca

Thursday & Friday, November 26th & 27th
UK Snow Film Festival
Standard Films Black Winter
Komedia
44 - 47 Gardner Street
Brighton BN1 1UN EUROPE
www.snowfilmfest.co.uk

Saturday, December 12th
Tahoe Adventure Film Festival
Standard Films "Best Film Segments" from Black Winter
MontBlue Theatre
55 Highway 50
Lake Tahoe, NEVADA 89449
www.laketahoefilmfestival.com
www.montbleuresort.com

Saturday, December 12th
Standard Films Black Winter
Beech Mountain Resort
1007 Beech Mountain Pkwy
Beech Mountain, North Carolina 28604
www.skibeech.com