Yesterday marked a sad day for the flatland community: KGB Bikes, the brainchild of world renowned flatlanders Martti Kuoppa and Viki Gomez, announced the end of the company. After six years, Kuoppa and Gomez will, according to a prepared statement from Martti, "Go our own directions in life." The split is amicable. "This all is happening in good terms and we will remain as good friends to each other but life must continue, and each one of us has to be brave enough to survive on our own. It's been a tough decision but also pretty much the only solution," added Martti.
So what happened?
Martti and Viki put everything they could into the development of new and innovative flatland products under the KGB name, including a wealth of frames, forks, handlebars, pegs and components. However, they were also riding full-time, and according to Martti, using winnings from contests to fund the company. Coupled with manufacturing issues, warranty claims, dealing with distributors, changing agents and everything else that goes into running a BMX company full-time, it's not hard to imagine why they chose to end KGB.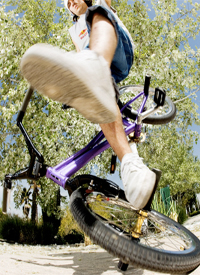 Let's put this into a different perspective. This very moment, Garrett Reynolds is arguably one of the best bike riders in the world, and at the very top of his game. Now let's pretend that instead of continuing to ride every day, he takes the money he's earned from riding so far and starts his own bike company, without hiring anyone to handle the day-to-day activities of the company. Eventually, he's going to be spending more time on the phone and on his laptop than riding his bike, and that's a bit of an injustice to what Garrett is capable of had he continued to ride full-time.
In my opinion, Martti and Viki are two of the best flatlanders in the world. While I can respect their desires and ambitions to run their own company, I also feel that they should be entitled to concentrate on their riding instead of making trips to Taiwan to inspect a production line of Psychonnecta frames. In the words of Martti, "I could write 20 pages about what's been going on in the business, but I will save you as it wouldn't make your day any better or worse." This is a somewhat familiar trend throughout all of BMX, from Hoffman Bikes to S&M to T-1; all companies started by amazing bike riders at a time when they probably should have been putting everything into riding instead of learning the BMX business ropes. (And I'm not saying that these companies shouldn't have been started either. It's just a testament to the independent spirit of progressive BMXers.)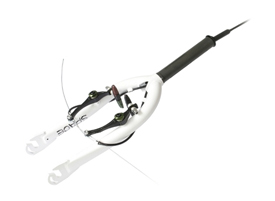 In other words, running a BMX company is hard work in itself. That Martti and Viki managed to run a successful flatland company while continuing to maintain the very high level of progression that they have is remarkable, and deserves the full respect of the BMX community. But at the same time, they shouldn't have to do that. In a perfect world, I'd love to imagine Martti and Viki getting a decent salary from a respected BMX company to ride a signature bike and parts, riding 4-5 hours a day and being taken care of by the community that they helped build from the ground up.
I'm sure good things will come Martti and Viki's way. (Hopefully, the above scenario.) And while KGB's influence on the flatland community as a whole will be felt for a long time to come, it's nice to know that some of the best pro flatlanders in the world no longer need to worry about the rigors of running a BMX business. They can now fully concentrate on what matters most: the riding.
Respect is due to KGB Bikes, Martti Kuoppa and Viki Gomez. Oh, and if you're still looking for a KGB setup, FlatlandFuel has you covered.
xgames.com