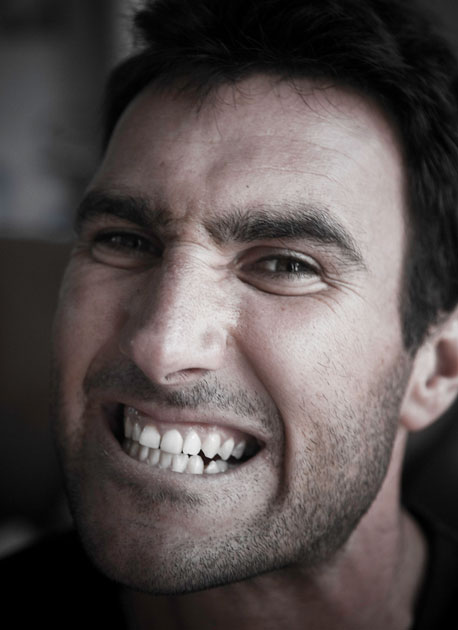 My father used to tell me the Number One rule in life is "Don't Panic."
Joel Parkinson
could probably benefit from that advice right now, because the wheels of his World Title campaign are coming off quickly. In his Round 2 heat today at the
Billabong Pro Mundaka
, Parko fell to rookie Drew Courtney.
That means that in three consecutive contests now Parko has failed to make it out of Round 2, which in turn has allowed Mick Fanning to surge his way into title contention. In fact, by winning his heat today, Mick has overtaken the ratings lead.
It's hard to say for sure—mainly because Parko's camp has been so tight-lipped about it all—but it would appear that the ankle injury that Joel sustained in Bali a couple of months ago is still very much nagging him. Plainly put, he's not the same Parko he was at the start of the year.
When the Hurley Pro came to Trestles at the start of September he hadn't surfed in about a month, as he wanted to give it as much of a rest as possible. And while he's been surfing on it more lately, it doesn't mean the ankle has improved.
"I heard it was a season-ending injury and that doctors thought he should have had surgery on it," says one well-placed source who asked to remain unidentified because of his close involvement with both the surfers and the tour.
Injury or not, Parko really had to feel the screws tighten when Mick Fanning showed up to the contest site the other day with a freshly shaved head—almost as if he was channeling His Royal Baldness, Mr. Kelly Slater.
As mentioned, by day's end Mick had overtaken Parko in the ratings. Now, with two events left, much to the dismay of Parko, we actually have ourselves a world title race. If Parko is to stop one of his best mates from capturing his world title, he might want to heed my dad's advice and not panic. Then again, it might very well be time to start freaking out.