I really like Dustin Miller. He's a sick rider with a very unique style and he's an independent thinker with again... a very unique personality. He's also a rider's kind of rider. I believe that it was Andre Villa who listed Miller as one of his favorite FMX riders of all time — that's pretty big coming from the sickest Norwegian ever invented. I hit Dustin up with a little "Hello My Name Is..." and it's really interesting to hear his responses to the questions. He's definitely not your average freestyler... I'd have to say he's above average. Check it out.
Hello my name is...
Dustin Elliott Miller

A.K.A.
Dust, Diller, Mill, Millhouse, Thriller, Scoot

I was raised in...
A middleclass single father household in the amazing Carson Valley, NV area.

The reason that you're reading about me is...
I've become semi-famous, and you are bored.

Right now I'm working on...
Besides answering these questions, healing a broken Scapula for the 2nd time in 2 years, while listening to the new NOFX album.

But I'd rather be...
Right now I'd really like to be out riding some laps on my 450 at the track behind my house. It's probably dry as balls and rough, but I love it, and it would be a lot better than sitting around the house injured.

My most prized possessions are...
My Dad, soon to be wife Nina, friends and dogs. Those aren't really possessions, but I can't think of any material thing that I feel that strongly about.

But I'd give it all away for...
Nothing, unless one of those dumb hypothetical things comes up - then I'd have to make a decision.

The first thing I do in the morning is...
Put my hands under the covers so my dog Riley won't nibble on them and make me get up.

The last thing I do at night is...
Usually watch a movie to put me to sleep.

My momma always said...
I haven't seen the broad since I was 4, so who knows what she always said.


The worst job I ever had was...
I worked for my friend Brian Foster's uncle in his machine shop. We both loaded metal into the cutting machines. I hated it. You would stand in the same spot, turn around to put parts in, take them out, check the measurements, put more parts back in. There's this coolant that sprays on the parts when they are being cut and your hands are constantly wet from it. I would stare at the clock waiting for the day to be done. One day we took a break and I was telling Bubbs that I couldn't take it and I was going to quit and he didn't believe me. I walked back in from break, headed straight to his uncle's office and told him I quit and went home. Then I knew I had to make something of this motocross thing.

I love it when people...
Have the ability to look at themselves from the outside and call themselves on their own BS.

I can't stand when people...
Feel uncomfortable with silence.

My favorite FMX rider is...
Mike Mason and Brian Foster... who also happen to be my two best friends, so I'm a little biased.

The most beautiful thing I've ever seen is...
I'm going to call this ahead of time, but I'll say Nina in her wedding dress.

The ugliest thing I've ever seen is...
George Bush addressing the nation. I was always embarrassed for him.

I am what I drive, which is...
No one should ever think that. I don't think cars are something to be proud of or show off, it's a tool to get from point A to B. I have a 2003 Chevy S-10 and a 2003 Chevy Silverado 2500 HD Diesel. No rims or any stuff like that on them.

My iPod is filled with...
Every Propagandhi album, and mostly punk or heavy metal.

My favorite place in the world is...
Hiking in the Sierra Mountains with Nina, Rusty the Wiener dog and Riley.

The last time I swore I'd never drink was after a night of...
I never say I'm going to quit because that would be totally unrealistic. I promised myself I would try not to drink until I was blacked out. That was after going to this place where all the Gardnerville folk go every Christmas Eve. You see people who went to high school here and it's a pretty good time. Too many shots of Jim Beam and my fiancé had to drag me out of the bar and deal with me pissing on myself while I slept haha. It kind of ruined my Christmas because I felt like complete shit all day.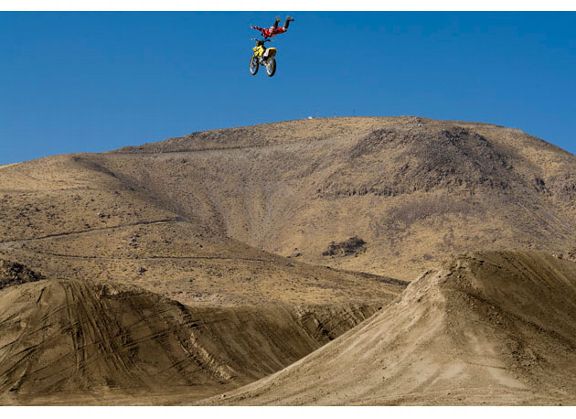 If you see me walking down the street say...
Hi Dustin! And talk to me like a normal person.

My most notable run-in with the law was when...
I got a DUI once. Never felt so stupid in my whole life and I have never driven drunk since. The classes and the MADD meeting really had an effect on me. I don't want to be responsible for injuring or killing someone. I'll sleep on the sidewalk before I'd get in a car drunk. What amazed me was there were people from all walks of life who had DUI's — Old people, young people, business people, scumbags, you name it... it was a humbling experience.

If I had to say sorry it would be because...
At certain times in my life I have been a pain in the ass... even in situations when people were trying to help me. Chalk it up to being young and opinionated.

I get agro when...
People don't listen to you when your having a conversation. Like they play with their phone or interrupt you or blow you off for someone else. That's why I'm so quiet. It's not that I don't have things to say, it's just that most people don't really listen.

Future goals and plans...
Keep riding dirt bikes for a living a bit longer. Get married this summer. No kids. I'd like to eventually build a little commune with Mike Mason in North Carolina where we can do whatever the hell we want, and work as little as possible.

And before I leave I'd like to give a shout out to...
Friends, family, fans and the people and sponsors who have helped me over the years.