Just days after the world premiere of the new film Refresh, the ski world was shocked to learn that Warren Miller Entertainment Group had filed a trademark infringement lawsuit against Level 1 over what it deemed the promotional misuse of the voice of Warren Miller Himself to promote a non-WME media product. According to WME, agreements between WME and WMH (Warren Miller Himself) granted WME "the exclusive right, in perpetuity, in all media, to the name, the personal endorsement, use of voice, and the likeness of Warren Miller, when used with its existing business, and the fruits of its related efforts."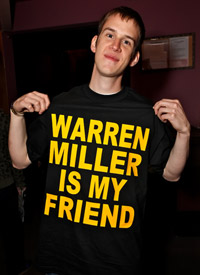 While vehement sentiments against WME boiled over in Internet forums (and online support for WME languished either because: a) that support does not exist, or b) WME's supporters generally work during the day), inquiring minds wanted to know (or maybe only I wanted to know):
Where does Warren Miller Himself fit into all of this?
I'm not a lawyer (as though that has ever stopped anybody from weighing in on a legal matter), but it seems to me that if WME owns the "exclusive right" to the voice of WMH, and WMH sells his voice to Level 1, that ought to put WMH in breach of his agreement with WME. Or at least it ought to involve the ski movie mogul (finally! why have all the journalists on this thing refrained from calling him a mogul?) in the case somehow. According to a a report in today's Aspen Daily News, my questions now have answers, kind of:
Through his attorney, Miller claims in U.S. District Court in Denver that his "rights of publicity" allow him to use his own name and appear in "Refresh," that there is no confusion among consumers that "Refresh" is from Level 1 and not Warren Miller Entertainment, and that previous contracts with Warren Miller Entertainment that included a "non-compete" clause expired in 1999.
The report continues by relaying the contention advanced by WMH's legal team that:
"This is not a case about trademark infringement by Level 1," Miller's attorneys told the court. "Rather, this is a case about legendary ski film icon Warren Miller's right to fairly use his name, voice and likeness as he chooses, including as a continuing contributor in ski films such as Level 1's Refresh."
So the last WME-WMH agreement ended in 1999, at least five years ago. And you can't own another man's identity. So it all seems pretty simple—if it were all really that simple:
But Warren Miller Entertainment claims that Level 1 is trying to "leverage and trade on the enormous goodwill, reputation, and selling power established by Warren Miller Entertainment under the "Warren Miller" (trade)marks." And that "Level 1's unauthorized use of the Warren Miller name and marks falsely indicates to consumers that Level 1's products, including the film "Refresh," are in some manner connected with, sponsored by, affiliated with, or related to Warren Miller Entertainment ..."
With Warren Himself weighing in on the issue, the battle cry of Warren Entertainment, to defend the trademarks in which the company is heavily invested, has remained unchanged. Moreover, WME held fast to the idea that this suit is between WME and Level 1, not between WME and WMH—so fast that it moved to
deny Miller Himself
party in the lawsuit.
Right now, the conventional wisdom casts this case as something like Corporationy Axis of Evil v. Hardworking Independent Filmmaker And Jolly Old Santa Claus Who Wouldn't Hurt A Flea. But If WME's central claim (i.e. that it owns the exclusive right to the use of WHM's voice in media) is valid, Level 1 might be in trouble, no matter how we all feel about it. And to clarify, Hardworking Independent Filmmaker is currently busy premiering its tenth-anniversary film, and Jolly Old Santa Claus Who Wouldn't Hurt A Flea invented the ski movie in 1950, which puts their combined experience with copyrights and trademarks at right around 70 years. That brings the question to my mind, didn't they see this coming?
Maybe?