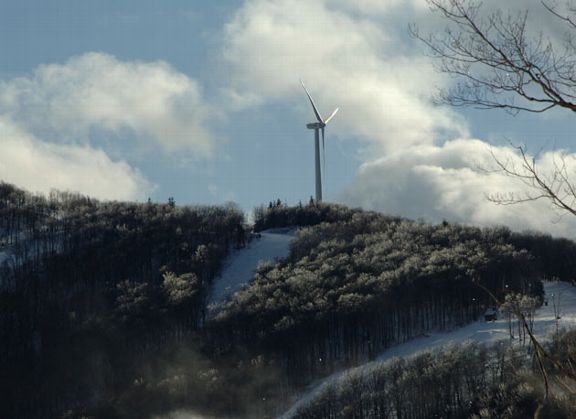 In case you didn't notice, resorts have slumped into an economic and environmental pickle as of late. With fuel prices bouncing up and down like a mogul lover on spring break, and the global warming impacts of traditional, oil-derived energy sources a looming threat, several pioneering resorts are turning to an abundant and very local alternative power resource: wind.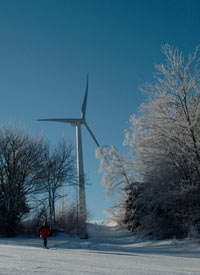 Besides being the destination of choice for night riding in the central Vermont area, home to Burton, Rome, and others, Bolton Valley Resort is about to be the first in the state to juice up with their own wind turbine. Already under construction as of mid-September, the resort expects to have the 121-foot-tall Northwind 100 Wind Turbine up and running near the top of the Vista Quad chair by late fall 2009. The turbine's three 33-foot long blades will generate 300,000 kilowatts/yr, the equivalent of 12 percent of the resort's yearly electrical demands.
Bolton is the third US ski resort to tap the gusty breezes that buffet ski areas. In August of 2007, Jiminy Peak in Massachusetts became the first in North America to generate power with their own wind turbine, a considerably larger (253 feet tall, with 123-foot blades) version that cost 4 million to install, and now provides 33-percent of the area's annual electric needs. Inspired by their Massachusetts neighbor, and looking for a way to cut business-threatening electricity costs Berkshire East Ski Resort, announced plans to build their own turbine in 2008. But construction plans are for the moment caught up in hearings, as the area Planning Board considers the impact of the project on a nearby historical site.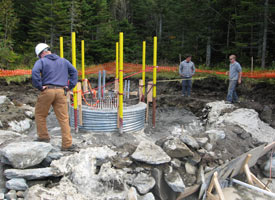 North of the border in Vancouver, BC, construction of a 65-meter turbine is underway at Grouse Mountain, expected to be online and generating up to 20-percent of the resort's electricity needs by early 2010. Grouse's project also faced public opposition, as do most wind projects. Maximum wind is typically found on the top of hills and mountains -- the large-to-gigantic towers seen as an aesthetic eyesore, and can be a threat to birds and bats, who face a potential ginsu every time they fly near.
In the larger picture, the view snowboarders don't want to see is a green mountain in December or January. The windmills are large up-front investments, in both economic and visual terms, but have the potential of a huge payoff—reduced dependence on fossil fuel-generated electricity, and longer, stronger winters.