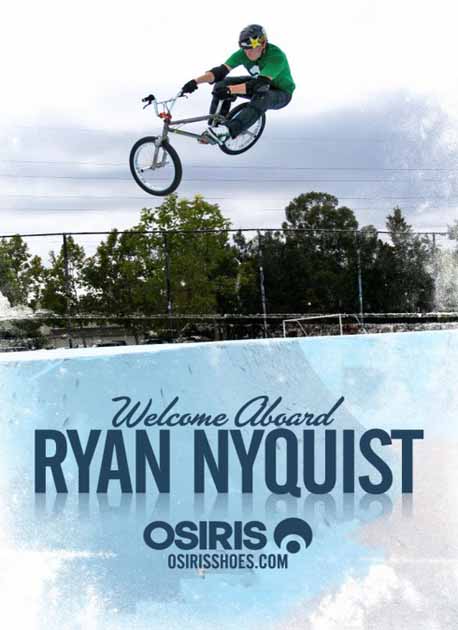 After many months without a shoe sponsor, Ryan Nyquist has found a new home with Osiris Shoes, joining a wide cast of BMX characters that includes Sean Burns, Rob Darden, Darryl Tocco, Anthony Flores, Marcus Tooker and Josh Betley. Yes, that's right: Ryan Nyquist and Sean Burns are now teammates. Here's what Ryan had to say about his addition to the team:
"The sweetest part of being involved with any company is the people you get to associate with -- from the team, to the team manager, to the head honchos. When you get to be a part of a program where every single person is kick ass, you really can't be anymore happy. That's exactly how I'm feeling right now joining Osiris. The crew is full of badasses -- seriously awesome people. I couldn't be more happy to get involved and start making moves."
Prior to the announcement, while the "Nyquist on Osiris" rumor was floating around the Web, I decided to check OsirisBMX.com myself to see if there was any truth to the rumor. But after entering said URL in my browser, I stumbled onto Fat Tony's site. Strange but true. Try it for yourself if you don't believe me.
xgames.com