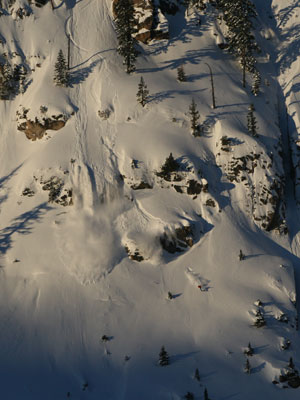 Ralph Backstrom is a 26 year-old snowboarder out of Squaw Valley starting to light things up on the freeriding front. Just days ago, he won the Chinese Downhill portion of the World Heli Challenge in New Zealand. Backstrom also stacked a second place at The North Face Masters in Snowbird last season and a top ten finish in the series—as well as a respectable 8th in the Baker Banked—. Dude is on the come up, though no surprise here when he's riding with other Tahoe steeps specialist like Jeremy Jones and Ryland Bell on the reg. Ralph also logs a lot of peak time with skiers that keep him on his toes and his sister is none other than skiing superstar Ingrid Backstrom. (If you check out the World Heli Challenge
website
they even accidentally listed Ralph as a skier!) Since mid-July, Ralph has been working on his RISK game and big mountain chops down south in Las Lenas, Argentina and Wanaka, New Zealand. It's his first time making this grand journey, normally reserved for the richer or famouser. His friends at
Unofficial Squaw
put together this quick edit of a few killer lines and some fun-looking airs from Backstrom's summer in the south that might help us all remember that, before the Bottom Hemi was a summer contest mecca/Shaun White paparazzi spot, it was just the place to go to chase that endless winter. (Check how nice the snow is in Ralph's first, long, flowing dog-leg line!)
Video and interview with Ralph Backstrom after the jump.
We got in touch with Backstrom in Las Lenas on his way to the
World Heli Challenge
(which just wrapped in NZ).
ESPN: What's the story behind this clip?
Ralph Backstrom:
UnofficialSquaw.com
is a Squaw Valley-based media website that posts helmet cam footage, HD video footage, pics, product info, industry news, events, etc. to keep folks informed as well as always stoked to shred. Towards the end of this past season an Unofficial team, called the Kick Ass Blasters—paying tribute to "Hot Dog the Movie," which takes place at Squaw—was formed and I was able to sneak on as the only snowboarder. I was fortunate enough to be able to come down to Las Lenas in order help provide footage and web content.
Vitals

Name: Ralph Backstrom
Age: 26
Resides: Squaw Valley
Sponsors:The North Face, Smith, Porter's Tahoe, UnofficialSquaw.com

How long have you been in the Southern Hemi and what has your trip been all about?
I got down to the Southern Hemisphere July 15th, and to Las Lenas a couple days later. I'll tell you, so far this trip has had a lot of downtime, so we've been trying to make the most of every bit of sunshine—which hasn't been that much. I really wanted to get into some of the terrain surrounding the resort-accessed terrain, but we haven't had enough solid days of sunshine to shred all the easy-to-get-to lines, making it unnecessary to go deeper.
Did you have any goals for this trip or just score some pow in summer?
I guess I'd have to say that my goals for my trip in general would have to be to ride some really fun lines smoothly, fluidly, scare myself a little bit, do some tricks off natural features... and, most importantly, stay safe. Also to get some good footage that stokes people out that are enjoying the sunshine in the northern hemisphere.
What would you say to someone who was thinking about heading down there this fall or next summer?
Bring RISK: The Game of World Domination, a few good books, and be prepared to enjoy some downtime. You can't go out and ride on the storm days without getting vertigo since there aren't any trees (in Las Lenas). It's one of the few places that you actually want it to stop snowing.
How does Las Lenas compare to Squaw?
LL is a very windy place, so a lot of takeoffs on airs never fill in. It's pretty tough to find good airs to send. The size of the mountains here in LL is pretty crazy! Price-wise, Squaw ends up being $15-20 more per day pass, but you definitely get your money's worth in vert... The chairlifts here [in LL] are 25-or-so years old and are pretty damn slow. The terrain you can access from the lift here, though, is absolutely insane: pretty steep, exposed, and really big! I've heard people compare LL to a heli operation due to the terrain you can access (as well as the downtime -- ha!). Riding Las Lenas really gets me excited to get back to Tahoe and ride Squaw!
What are the highlights of last winter and your goals heading into 2010?
Getting second place at The North Face Masters in Snowbird and in the Overall Top 10 of that series. Filming and riding with Standard Films was probably the high point of my season. It's so amazing going out into the backcountry with Mike Hatchett. You can tell him any line you want to do, and he can tell you how big, small, tight, etc. any of the features are and is not afraid to shut it down if he thinks (rather, he knows for certain!) it's not doable. I specifically remember wanting to do a line and him telling me that one of the places I wanted to turn wouldn't be possible because the nearby features were too close together. He was specific down to the number of feet between the features... I didn't believe him, but when I did the nearby line that he recommended, I got a good look at the line I wanted to do and he was spot on. I've never questioned his advice ever since! Heading into 2010, my main goal is to push the limits and contribute to big mountain freeriding/freestyle by means of filming with Standard, entering freeride comps, shooting lines at Squaw for UnofficialSquaw.com, as well as contributing to the progression of freeride equipment. It's already starting to look like it'll be a fun season: LL in July/August, NZ, Antarctica in November with UnofficialSquaw.com (check in for some penguin bonking!), and Squaw when I get back!
Dick...
[Laughs.]