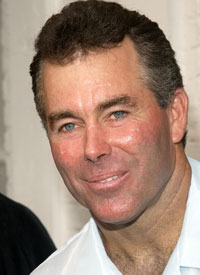 On Monday San Francisco Chronicle Staff Writer Bruce Jenkins broke the story that Jeff Clark had been removed from the contest director's seat for the Maverick's Contest this winter. Jenkins wrote:
"Clark has been at odds with Maverick's Surf Ventures, the contest organizers, on a number of topics over the years, to the point where both Clark and Ventures CEO Keir Beadling agreed that the partnership was untenable. Although he still owns a share of the company, Clark was dismissed as contest director by the board of directors, an awkward development considering he was the first to surf Maverick's in 1975 and has presided over the spot's well-being."
You can read the entire story on the Chronicles website.
All of this is still kind of unraveling, so for now this blog post is nothing more than my gut reaction, and I must say, this is some crazy news. In my opinion not having Jeff Clark there is pretty sad and pretty telling about what kind of hands the Maverick's Contest may be in. I mean really, Jeff Clark ousted? He surfed that place alone for the better part of 20 years. He almost singlehandedly revived big-wave surfing in California. He's been there for nearly every major swell event since people have been documenting it. For crying out loud, the guy surfs the left goofy-foot and the right regular-foot! What else do you want?
Without getting into any history or politics, Jeff's a strong personality and maybe it just wasn't working. Maybe it was in everybody's best interest if he walked away? Maybe it was time to let some fresh blood take over?
I don't really believe that, I mean, Quiksilver's never barred Clyde Aikau from surfing in The Eddie because he was too old or a bit of a political hot potato? I'm not inferring that he is, I'm just saying. The Eddie, dedicated to the memory of Clyde's brother, is steeped in tradition and respect, and some of that has to have rubbed off at Maverick's, right?
It all just seems really weird to me to have a surf contest at Maverick's and not involve the man that is the reason for it all. I'd really like to hear your take, and of course we'll follow this up with a considerably more in-depth report in the not too distant future. For the time being though, I just wanted to share a little tidbit that I picked up off the wire and thought was most definitely a point of interest.