[+] Enlarge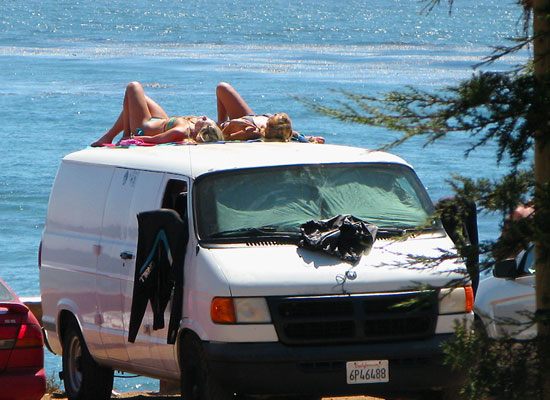 Subject: Two Girls and a Van | Photo: Spooky Whisper | Location: LA County Line

I was driving up to Santa Cruz yesterday, and not being one to pass up an opportunity, I opted to take Highway One through Topanga and Malibu and into Oxnard. I figured I'd find something fun at one of the nooks and crannies along the way. Of all places Leo Carrillo looked best, a fun little waist to chest-high right breaking off the rock. But the real score was up at County Line.
I was caravanning up the coast with a friend who was on his way to San Francisco and we were going to meet at County Line and then go surf somewhere. He got to the parking lot before I did and called me with a status report.
"How is it?" I asked.
"Oh my god, there are two mega hotties on the roof of a van right now," he answered, growing more and more excited with each syllable. "Oh my god, they're so hot!"
I tried again to get through to him. "How's the surf," I asked.
"What? Oh, I don't know. Oh my god, now they're passing a joint back and forth. This is the best thing ever!"
Best thing ever? I don't know, but you do have to admit, in its own '70s way, it is damn pretty cool. When I pulled up a couple minutes later the two "mega hotties" were in full bronze mode. The surf sucked, but I do have this dreamy lineup to share.