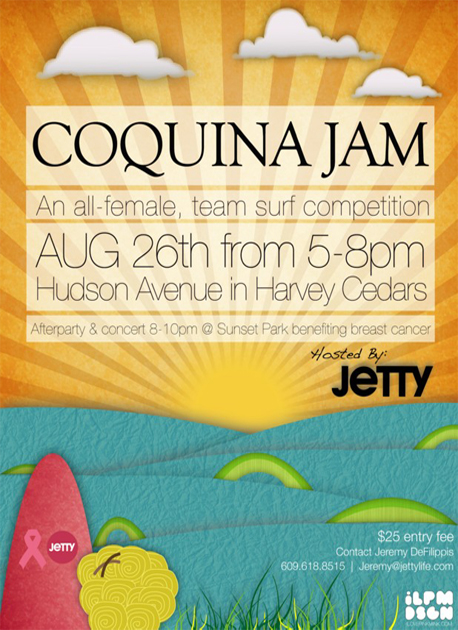 Is there anything better than watching women surf? How about watching 32 women surf? How about slurping down cold clams on the half shell on the beach while the women surf?
This evening, starting at 5 p.m. is the Jetty Coquina Jam, the "sister" event to the Jetty Clam Jam on Long Beach Island, New Jersey. Last October, the women battled six-foot storm surf. Tonight's promise of waist-high and cleaning waves sounds a little more appetizing to most of the ladies.
Hurricane Bill held on through yesterday afternoon. Today, there's a little south wind chop ahead of an approaching front. Hopefully the wind dies before dark.
The way this works is everyone's name is put on a clam shell. Then they pick team of two out of a hat. Surfers 24 and older are matched with the younger girls to bring the generations together. Pretty cool idea, huh? Most of these surfers only compete once a year. But it's not about rippage. It's more about everyone coming down and celebrating the coming of our glorious September.
And the clam thing? Well, quahogs are just part of the history and culture of our region. There's nothing better than freezing clams on the half on a hot summer night. And believe me, tonight is supposed to be hot.
Brian Wynn has shaped a pink board to be raffled off, and all proceeds will go to Boarding For Breast Cancer, aka B4BC. There's an afterparty at Sunset Park with food from Living On the Veg (veg food, Adina Holistic drinks, yoga — why are womens events so much more healthy than mens?) and a few local bands.
Plus, my man, Joel Dramis at Art4Ocean made the most amazing trophy.
There aren't many events right here in my little community, but the ones that are tend to just be pretty grassroots. And having a bunch of women surf might combat the 'bro factor.' If you are in the Central or South Jersey area, I definitely recommend checking this out.
Also, there's a good chance that Tropical Storm (or even Hurricane) Danny will be up in our neighborhood in a few days.
And it might hit my house.