Flynn Novak captured back-to-back victories at Ala Moana Bowls by winning the Sponsor Me Hawaii 1-Star World Qualifying Series event. Last summer, Novak won the Macy's E-Series at Ala Moana. The 26-year-old, North Shore native admits that yesterday's triumph meant a lot more because of the challenging, shoulder-to head-high surf on offer.
"I knew what it took [to win] based off of last year, but last year it was more surfing than getting lucky and tactics," said Novak about the final heat of the Sponsor Me Hawaii pro/am surf contest. "I'm really excited I could pull it off in harder conditions that makes it even better."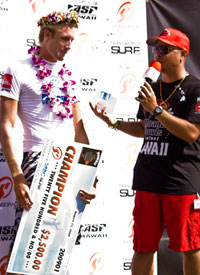 As the lone goofy-foot in the four-man final, Novak was the only surfer that found a tube ride in the 30-minute heat. Furthermore, the lanky, blonde-hair surfer backed up his barrel riding with rail-burying layback slashes. He won this contest with a two-wave total of 13.9 out of a possible 20. Although Novak's forehand approach to Ala Moana looked well rehearsed, he only surfed Bowls a couple of times in 2009 and doesn't feel very comfortable at this surf spot.
"It's actually nerve-racking because the wave is so good that it's hard to stick to your game plan and wait for quality waves," said Novak who played the waiting game all day for the biggest and best sets. "I never surf Bowls...this year I only surfed it twice and once was at 5:30 in the morning to avoid the crowd. I love the wave and it's definitely a world-class venue."
Novak beat out a red-hot Solomon Ortiz, who placed runner-up at the contest. While Dustin Cuizon earned third place and Roy Powers finished in fourth.
"I'm super psyched that Sponsor Me and ASP Hawaii put this event together again because it was 'iffy' a few months ago," Novak stated. "They need to have more events like this because Hawaii has world-class waves and you might as well have world class surfers in world-class waves. Sponsor Me are on the forefront of something big. They're at the lead of what should be more major backers for events like these."
The Sponsor Me Hawaii 1-star 'QS event was the first professional surf contest broadcast live on the Internet by TransworldSurf.net. Adding to the prestige of the event was a chance to qualify for the Vans Triple Crown of Surfing. Through this event and the Xcel Pro in October, a handful of local surfers are able to qualify to compete at Hale'iwa and Sunset.
This is a huge opportunity for surfers like Novak, who is a North Shore local, but because of the world wide recession was unable to travel on the WQS and qualify for the Triple Crown. According to Novak, by this time last year he had already competed in 12 'QS events, compared to this year when he only did four 'QS contests. So this qualification process played out nicely for him.
"This was perfect for me because this year I wasn't able to do all the 'QS's because everyone's hurting and I didn't have any money to go travel this year," said Novak. "It really helps for the Triple Crown because I have nothing to fall back on right now. I'm really relieved."
Results
1) Flynn Novak $2500
2) Solomon Ortiz $1000
3) Dustin Cuizon $800
4) Roy Powers $700