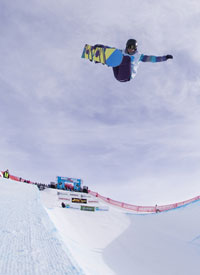 If the first major TTR halfpipe event of the 2009/10 season is any indication of what's to come in an Olympic year, the New Zealand Open has made this much clear: the bar is high, riders are not holding back, and a double cork 1080 is the trick to have in the bag this season.
Shaun White battled out Luke Mitrani for the first place spot, with White ending his winning run with back-to-back double cork spins: frontside Lien air, backside 900 Melon, frontside 1080 Stalefish, switch double cork 1080 stalefish and frontside double cork 900. Welcome to 2010.
Luke Mitrani also has a double cork in his repertoire, but only landed one in his run, and it was a 900 as opposed to a 1080. Mitrani is definitely hot on White's heels, however, as we move closer to a North American winter.
Third place spot went Kazuhiro Kokubo, who busted a huge McTwist, as per Kokubo style. Mason Aguirre, who landed a fourth place finish, and gained enought points to move into the first place spot for the TTR tour.
Kelly Clark made a big statement as well, who defeated Jiayu Liu for the first place spot. In 2008, Liu had beaten Clark at the NZ Open. Clark's winning run included her signature frontside air, a backside 540, frontside 720, Cab 720, and a frontside 540. Zhifeng Sun rounded out third place.