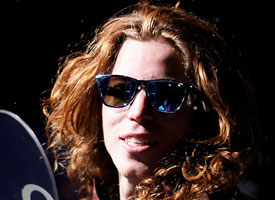 The book of gadget gospel, Popular Mechanics, published an interview with Shaun White this week, and though it doesn't go into specifics about exactly what he's been up to in these private sessions, White does offer some insight as to how the idea came about in the first place:
"It was based off the idea that comes from Tony Hawk, who has a warehouse in Carlsbad, where I live. And, it's his private ramp. It's unreal because you can go there and skate and geez, the last time I was there, it was myself, Bucky Lasek, Bob Burnquist, and like five other dudes; really good skaters. It's a cool place to go and to skate. It's the best ramp in the world. It's indoors so it's always going to be good weather. And, you don't get hassled as much."
White also discusses the status of his ankle injury and what kind of boots he's riding because of it. But it wouldn't be a true Popular Mechanics interview if they didn't delve into his new video game, "Shaun White Snowboarding: World Stage," and then make a couple comparisons to him and Carrot Top.
Best part of it all? The opening photo of the interview (at least the online version) is a pipe shot of not Shaun White—but rival competitor Kevin Pearce. Harsh tokes.
Read the interview here.