It may take away from the experience of travel, but knowing someone in a foreign city, in a country you have never been to, will save you considerable time, energy, and money.
Do not give in to the horde of taxi-drivers stacked atop one another, yelling, "best price," while waving dilapidated signs of their services as you pass the last inspection point into the stagnant air of Santiago. It may seem like a good idea in your travel-bent mind, hunched over with your backpack, board bag and suitcase, but these birds of prey have no moral compass when it comes to overcharging gringos who have Lonely Planet books hanging out of their back pockets and exhaustion on their faces. Find a bus with a set price, or, as was my case, have a friend go there before you, have him find a girlfriend, and have her pick you up.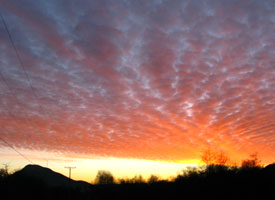 I arrived in Santiago, Chile on July 29 with Lucas Debari and Matt Edgers, two of the best backcountry freestyle snowboarders I know. The aforementioned Isidora spotted our small crew through the maze of swindlers, kissed us all on the ear and led us to her mom's SUV.
This trip marks Lucas's third time in Chile, which makes him our default guide on this look-about, at least for the first leg. From Isidora's parents house in Santiago, we were picked up by Jermías, an El Colorado resort local who Lucas had shredded with on his previous trips. Within the first mile of the most poorly maintained and twisting road I have ever encountered, Jermías asked us what gear we brought and if we'd like to sell it. Snowboard equipment is, in some cases, twice as expensive in South America as it is in the States and arrives for their winter when the newest equipment is dropping in the U.S., putting them at least a season behind in trends and innovations. Lucas anticipated this move by Jermías—be on the lookout for three Debari clones under the equator by the end of August.

The majority of skiers and snowboarders don't look past the groomers, leaving fields of untouched snow, weeks after a storm.
El Colorado (elevation 10,964 feet) sits in the middle of La Parva and Valle Nevado, three connecting resorts that sit about an hour-and-a-half above Santiago. The trio lies in the middle of the Andes, the world's longest mountain range, about 1,250 miles down Chile's 2,600-mile coastline.
The scene at El Colorado is similar to that of many European resorts. The majority of skiers and snowboarders don't look past the groomers, leaving fields of untouched snow, weeks after a storm. The small, dedicated group of shreds in Chile would just as soon go to sleep at five in the morning, rather than waking up at five in the morning to be first in line on a powder day.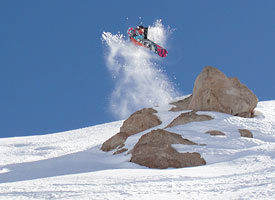 The El Colorado sidecountry, which lies out of resort boundaries and aprons down to the road below, extends about 2,000-plus vertical feet, depending on where you start and end up. For four days we sessioned road runs, looking back up and memorizing our next descent while waiting for someone to pick us up. Odds are, luck could strike in minutes, or in an hour. Pull your smile wide if you see a pickup.
With a legal drinking age of 18, a twenty-first birthday has no significance in Chile, but Lucas celebrated his on our third night in Farellones, a small village below El Colorado's main base area. Fueled on Piscola, Lucas and Edgers sent it on the dance floor to the stylings of a Guns N' Roses cover band, fronted by a Chilean singer who pronounced only half the words to each song.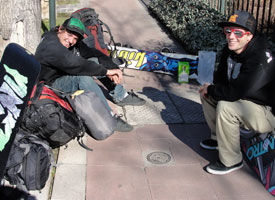 By the time I realized how offended people were by my friends' expressive dance moves, el más grande Chileno in the club had his fist clenched tight to my shirt collar with a firm grip on Lucas. I tried to explain that it was my friend's birthday, and that falling into and pushing people in no premeditated direction was a reasonable way to celebrate the occasion, as well as being a sign of appreciation for the genre of music.
The man didn't care for my answer, however, and the small group of locals we came with were no longer visible in the packed bar. Amidst an argument in a language I have no grasp of, people began to interject out of a lack of space to do otherwise, and Lucas and I managed to free ourselves and drift towards the door, running into Matt on our way outside. Only 2:30 in the morning, but it was time to go, despite the fact that more and more people lined up at the door.
The next day, August 1st, was Lucas's actual birthday, and an early morning windstorm had covered up most of the tracks down to the road. Fast and poppy, we took out the cameras for the first time and took turns slashing waves and hitting natural kickers above rock clusters. Lucas claimed it was the best birthday he could remember. We stayed a few more days, but forecasts called for snow down south, so we made our way back to Santiago's Central Station.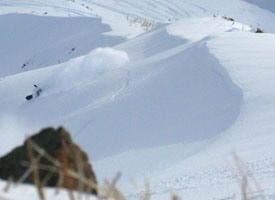 When we arrived in the Las Trancas Valley, about six hours south, a downpour had laid half a meter of snow over the mountains of the Termas de Chillan resort in 36 hours. The land is much greener here than in the Santiago region and the air is full of sulfur instead of toxic haze. Our friend Forrest Burki has just arrived, and he has brought my surfboard with him.
Right now I am sitting in Ariel Cifuentes kitchen. Ariel is the owner of the Beta snowboard shop in Las Trancas, and he's put us up in his home, fed us, and introduced us to all the locals. The forecast is for more snow, but for now, we are going to skate a mini-ramp at the nearby M.I. Lodge and have a barbeque.
Just like summertime.