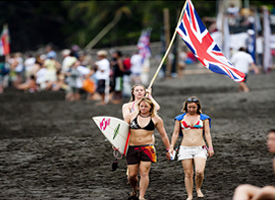 Last week there was a bit of a discussion here about getting surfing back into the X Games. But there is another movement, one that has seemingly been going on forever, to get surfing into the Olympics.
Through it all, there has been one voice screaming down the hallway for years, one man who is as passionate about it as anyone. That would be Fernando Aguerre, former co-owner of Reef, figurehead of the Surf Industry Manufacturers Association and humanitarian proponent who is also the president of the International Surfing Association.
Right now, Aguerre is sweating it out down in Playa Hermosa, Costa Rica, at the ISA World Surfing Games. And while he is plenty proud of these events, he won't rest until surfing is a part of the Summer Olympics.
"The Olympic Games should continue to be a democratic event. While teaching respect for sport, the Olympics should continue to allow for better integration of mankind, through a common love of all sports," he says.
He feels that not only would surfing grow from being in the Olympics, but the Olympics would benefit by keeping themselves current and relevant.
There are many hurdles blocking the way between surfing and the Olympics, the first of which is that it comes down to a decision by the International Olympic Committee, which can't just say, "Hmmm ... surfing? Sounds good. Okay, you're in."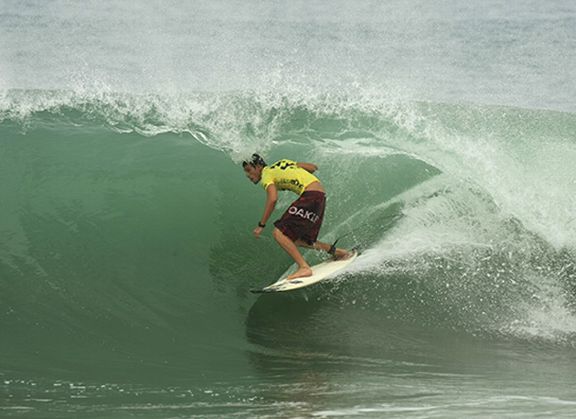 There are only so many sports allowed in each Olympics, which means that if surfing gets in, something else has got to go. How would you like to be the guy who has to make the decision that surfing is now an Olympic sport, but archery is not.
"Hey, you guys with the arrows — Let's move it along. Let the surfers pass."
Aguerre, a native of Argentina and an ardent soccer fan, isn't trying to upset the traditional sports establishment. He's a huge fan of sport.
"Most importantly, new sports will build additional bridges for people to connect with each another while nurturing a passion for sports and the Olympic Games," he said at a presentation earlier this year.
It's a tough one, but lucky for surfing's international proponents, Aguerre has done his homework. He's been doing it for years. He knows that in order to get into the Games, the IOC must decide seven years prior. He got the IOC to recognize the ISA back in 1996.
Aguerre feels that the recent inclusion of snowboarding, and more recently BMX, are great examples that it can be done. He's hopeful right now because he feels surfing would be a better draw to a young audience (which is what the Olympics needs) than other possibilities on the table, like golf, rugby, roller sports, racquetball and karate.
Yes, the world needs more golf.
Another huge issue is that the event would have to take place in a wave pool. Most Olympic cities don't have a surfable coast, and this solution would create an even playing field. He goes into detail about recent pool developments in his report. And the facility would stay in the city. (Jake's got a bit on wave pools in an earlier post.)
Let's also remember the Olympic standards for drug tests. I hate to be the one to bring it up — and most surfers do not have drug problems — but lets be realistic.
Aguerre has a very compelling essay written on the ISA site. Something to consider this week, as countries clash for national pride down in Costa Rica.
"This is a long range battle," he said today, "one that I'm willing to fight."
(Check for more on the Billabong ISA World Surfing Games later this week.)