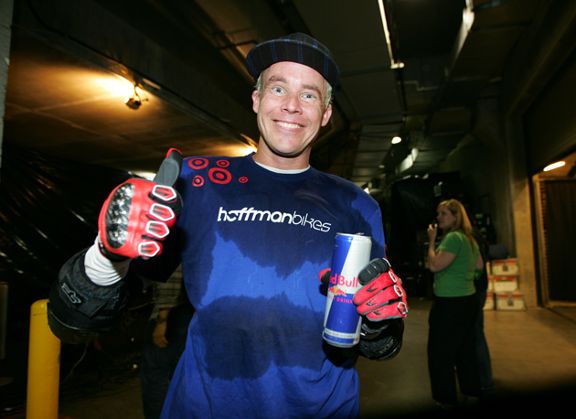 And that's going to be it for X Games 15 Street and Big Air events.
I'm relieved that everyone leaves the big ramp intact and un-concussed. As for the results, it's no surprise. Kevin Robinson has another Big Air gold medal. The line that won it: a huge no-handed backflip over the 70-foot jump to 20-foot no-handed flair.
It is called "Big Air," and you can't get much bigger than that.
As for second, that goes to Kevin's good friend Chad Kagy, who didn't go for the rumored double backflip, but instead rolled the dice with a tailwhip backflip over the 70-footer to bailed whip flair at about 17-feet on the quarter. It would've been a very close call if Chad had pulled it, but let's just be glad he's healthy. We still got vert tomorrow for Chad and Kevin.
In third was Dave Mirra. Dave definitely went for it. And as is the case with Mirra, it's either all or nothing. But even when his all doesn't go quite the way he planned, that's still a respectable third place for Mirracle Boy.
The big news of Big Air though: Anthony Napolitan and BMX's first double frontflip. It's now pulled, and not only that, it was pulled twice in a row. Congrats to Anthony for making the BMX record books and making it out alive and well. I always get so scared for the Big Air competitors. That ramp is no joke. Also gotta give a shout to Allan Cooke, who placed a respectable fourth. Despite a full-time job at Haro and a recent cross-country move, Allan isn't slowing down one bit.
Truly a great event, and even more splendid that everyone walks away healthy. Here's the final results. Watch the Big Air Finals video HERE.

1. Kevin Robinson
2. Chad Kagy
3. Dave Mirra
4. Allan Cooke
5. Anthony Napolitan
6. Morgan Wade

But that's not the only event that went down today. We saw street finish up about three hours ago, and it was nuts. You want highlights? Here goes:
1.Garrett Reynolds: Double truck down the steep 12-stair set. Uprail on the mellow 12-stair set to double barspin. Smiths to tuck no-handers. Barspin to ice down the steep 12-stairs. Effortless, smooth and catlike on the very few occasions when he had to bail. We hear all the time that Garrett has a bright future ahead of him, but I like to think we can appreciate him properly in the present tense.
2. Ty Morrow: This was Ty's first X Games, and he seemed to have the format dialed. Big tricks, get his scores up, sit down and take it easy. 3s and opposite 3s down the steep 12-stairs, a 3 down the mellow 12-stair along with a 180. Ty is not scared.
3. Van Homan: Not to repeat myself too much, but Van aint scared either. We already knew this. But Van has a contest edge that doesn't come out too much, and when applied to the street course, it brought out straight up rail manuals down the steep 12-stair, a Derek duster down the mellow 12-stair, gap to grind on the steep 12-stair and a straight up whip hop over the rail to flat on the steep set.
Here's the final results from street. Check the street vid here.

1. Garrett Reynolds
2. Ty Morrow
3. Van Homan
4. Nathan Williams
5. Brian Kachinsky
6. Corey Martinez

And we're going to call it a day for X Games 15 Friday coverage. Check back tomorrow for park and vert finals. I promise we'll have more photos and less BS-ing from myself.
xgames.com