Three snowboard events will take place in Vancouver for both the men and women. That means six gold medals are up for grab. And only six months for you to study up.
Snowboard Halfpipe made its Olympic debut at the Nagano games in 1998, alongside IGS (individual giant slalom), which was tossed in favor of PGS in 2002. In 2006 at Torino, the halfpipe walls measured at what then was an impressive 18-feet. In 2010, the evolution of pipe riding now demands 22-foot walls. These super-duper pipes are quickly becoming the industry standard (Last season Winter X had 22 foot walls for the first time) and will be used at all three stops of the U.S. Grand Prix, the qualifying series for selecting the Olympic team. Three men and three women, as well as one male and one female alternate, will make up the U.S. halfpipe team. An international panel of judges scores riders on their amplitude (height out of the pipe), difficulty and how cleanly they land their tricks. In Torino, grabbing spins was a must, and this will certainly apply in Vancouver. Men's finals, Feb. 17; women's finals, Feb. 18.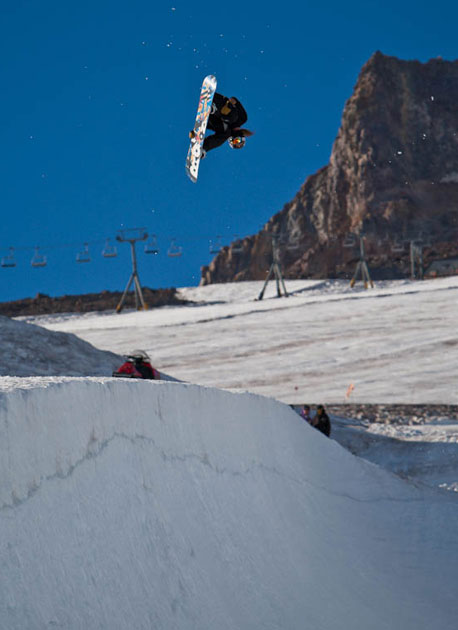 Snowboard PGS (Parallel Giant Slalom) replaced IGS at the Salt Lake City games in 2002. A popular sport internationally, snowboard PGS is an offshoot of downhill ski racing and receives little attention in the U.S., where few races are held annually. In PGS, two snowboarders race head-to head on a downhill course and through a series of gates. The winner of each heat advances to the next round and the top athletes will complete a total of nine runs, including finals. Women's finals, Feb. 26; men's finals, Feb. 27.
Snowboard Cross was the most talked about new Olympic sport in years. It debuted to an Olympic audience in Torino in 2006, but has been a Winter X Games staple since 2000. In its Olympic form, four athletes race shoulder-to-shoulder out of the start gate down a massive course featuring rolling terrain, banked turns, jumps and flat sections. The two fastest racers from each heat move to the next round. Unlike halfpipe, no points are given for style. First man or woman to cross the finish line wins. Men's finals, Feb. 15; women's finals, Feb. 16.
Skicross makes its Olympic debut in Vancouver, where organizers hope it will build upon the success of its snowboard counterpart. A faster version of snowboard cross, skicross follows the same four-man format and also uses a timed qualification run (known as a time trial) to seed skiers into heats. Most competitors in this young sport have an alpine skiing background and many have Olympic experience. If all goes well, skicross will be the bigger, faster, stronger—and crashier—version of snowboard cross. Men's finals, Feb. 21; women's finals, Feb. 23.
xgames.com