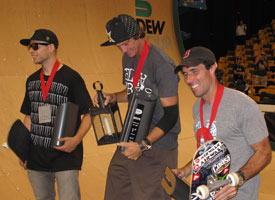 The Dew is done. Vert finals have wrapped and the World Championship of Skateboarding for 2009 has come to a close. One thing I'll say about vert: a mainstream audience sure does love to see people fall from way up high. The "Oohs" and "Ahhs" heard when vert riders would go down were nearly as loud as the screams for Sheckler earlier in the day. Full Results and commentary after the jump.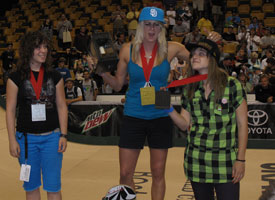 The Women's finals were really just the Lyn-Z Adams Hawkins show. With Cara-Beth Burnside, Mimi Knoop and other women's notables notably absent, Lyn-Z's competition was a bunch of barely teenage girls, many of whom had trouble reaching the coping. For the first woman to land a kickflip indy in vert, the contest wasn't much competition. The highlight was watching Lyn-Z's valiant (yet ultimately unsuccessful) attempts to pull her first McTwist ever. With even Tony Hawk up on deck giving Lyn-Z tips, you know she's gonna pull it soon.


Women's Podium
1. Lyn-Z Adams Hawkins
2. Gaby Ponce
3. Karen Jones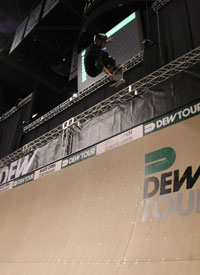 The Men's vert final was a serious display of the tech moves that are really giving the field a shot in the arm. Pre-qualified riders, Bob Burnquist and Pierre Luc Gagnon put on quite a show, once again demonstrating why they're usually at the top of the podium.
Andy Mac had a flawless second run that earned big cheers from his hometown Boston crowd and a third place standing overall. PLG also had a perfect second run that included two 720s and a switch front heel. He hung on to earn second place.

But the story of the night was Bucky Lasek who had a flawless first run that included a signature eggplant 540 and a nollie frontside flip stalefish. Though he fell in both runs that followed, he still pulled enough tricks to seal the win.

Men's Podium
1. Bucky Lasek
2. Pierre Luc Gagnon
3. Andy MacDonald