In what has been a time of struggle for several production crews, Autumn Line has quietly been climbing the competitive ranks in snowboard filmmaking. Their upcoming release this season, "Montevideo," marks Autumn Line's fourth movie release. One of the largest outfits to rise out of the midwest, the company still calls the North Coast home, where nearly a decade ago brothers Adam and Matt Porter created a small company called Hardwire Productions in their home state of Ohio.
Five years ago they turned the professionalism up and started a new company, Autum Line. Their first movie, "Never Felt Better," received a positive response from the industry and this was followed up with "This Is For Everyone," and last year's "Technicolour." Two years ago, a third partner, Mark Wiitanen, joined the company. The three are now the driving force behind Autumn Line, which not only continues to release their own videos, but are busy outsourcing production work for other video crews such Transworld and People.
Knowing the limitations of filming in the midwest, the crew spends a great amount of its time traveling to the west, this year in particular in Lake Tahoe, California. With the release of the teaser for "Montevideo," Autumn Line has once again showed strong conceptual direction and attention to detail. ESPN linked up with Adam Porter to find out more about the company and what to expect from "Montevideo," dropping this September.
How did the concept for this year's film come about? And what challenges have you faced trying to execute the theme and look that you're going for?
The concept was born partly out of the movie we made last year, "Technicolour," which was based mostly on 60s and 70s animation with a weathered filmstrip look. We loved making it, and got a lot of good response, so for "Montevideo," we just jumped forward a decade or so and extended the theme.
What about the name "Montevideo?" Where does that come from? Did you know that Montevideo is the capital of Uruguay?
I wish I could tell you it had a super deep meaning, but the real story comes from Mark, in his quest for an eighties name in reference to "VHS", or "video," and so on. He was in a bathroom of someone that had a world map shower curtain, and low and behold, there was the capital of Uruguay. (And don't worry, we have always been well aware that Montevideo was a South American city). Matt was on board with it... I kind of fought it at first, but I came to love the name eventually. But ultimately, we decided to go with it not just because it sounded cool, but because (assuming my Spanish, and the online Spanish dictionaries are correct), "Montevideo" also translates as "Mt. Video" or "Video Mountain," so it actually applied to our movie in a pretty cool way.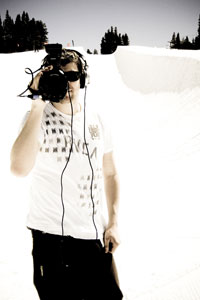 Can you explain some of the different references we're seeing in the teaser?
We were aiming mostly for a collage of all sorts of 80s video references. If you watch closely, there are a number of old video game references of course, as well as parodies of classic 80s movie studio and television idents like CBS Saturday at the Movies, Orion, and a handful of others. Like a lot of the snowboard world right now, we're children of the 80s, so parodying those idents brought back some fun memories.
Toward the end, it moves more toward an 80s sitcom vibe—with the shots of the riders at the end, looking happy and...I'm struggling to place that TV sitcom theme song...?
For the trailer credits, we wanted a fresh way to shout out our sponsors and web information, and figured what better way than in sitcom fashion? Without giving too much away, let's just say it's inspired by a certain Chicago-based sitcom featuring a wacky Meposian and his cousin. To tell you the truth, I pushed real hard to do the whole trailer strictly to the entire theme song of that show. I even started to edit it, and, well, it cracked me up. I got shot down though.

In addition to "Montevideo," we also produced the '20 Tricks: Progression Sessions' movie for Transworld this year, and we're doing all the motion graphic work for the new People movie. We love our jobs.
What kind of programs are you guys working in? Are you self-taught or have any of you attended any type of film school?
All three of us are self-taught video and design guys. No formal training... just two marketing majors and a Communications major. It's great though. It's nice to let kids know that even if you don't have the chance to go to film or design school, there are still tons of avenues to make movies if you want. We started out just trying to figure everything out on our own, and now we're neck deep in projects. In addition to "Montevideo," we also produced the "20 Tricks: Progression Sessions" movie for Transworld this year, and we're doing all the motion graphic work for the new People movie. We love our jobs.
How do you guys split up the workload? Who is doing what?
We all do a bit of everything, although we've slid into more defined roles in recent years. Mark has pretty much become our primary cinematographer and DP. Matt does much of the editing. I'm our lead motion graphics and visual designer, and spend 90-percent of my time animating and compositing. All three of us, though, spend a good amount of time on snow behind the camera every year.
In terms of equipment, what are you working with?
We shoot with Panasonic HVX200s, and edit using Final Cut Studio, all-Mac setup of course. For compositing and graphics, we work in Adobe After Effects, Cinema 4D, and a handful of other compositing programs.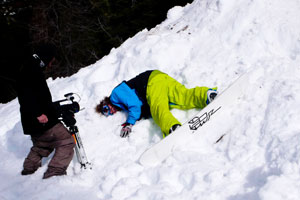 Okay, enough with the production and the conceptual direction. Who's got the banger part this year? Tell me a bit about the crew you guys worked with this season.
Man, a lot of our guys really put in some solid work this year. So many of them have parts that are really strong, like Brett Butcher, Pat Lynch, and Kyle Miller. Those guys went all out for us this year, and their parts are some of the best so far, but really it's so hard to pick. Brendan Hayes and Taylor Carlton are two more of my favorite parts in the editing room right now. Our overall crew was a little more tight-knit this year with some familiar faces returning to us, like Gabe Taylor, Pat, Brendan, and Brett. We also had some newcomers that we're so psyched on, like Nick Visconti, Kyle Miller, Taylor Carlton and some others.
Where was the video shot, location wise?
Our crew is largely California based, so there's a lot of Tahoe, Mammoth, and other driving distance locales near the coast. Also, as a Midwest born-and-raised production company, we never miss a year without an extensive Midwest rail trip. We filmed on tons of new spots this year, many of which have never been seen by anyone before, so that's been pretty exciting.

The [economic] impact was definitely felt. Our travel budget was a fraction of what we've had in years past, so it took a lot of improvising on behalf of us as a production company, as well as our riders. A lot of couch hopping and coupon clipping went down all season long.
What type of riding can we expect to see in this year's release? Will it be more urban/street based or did you guys spend more time shooting in the backcountry?
Wow, it's actually kind of hard breaking this down in my head, because it's pretty balanced. I think this might be the first year that an Autumn Line movie has more backcountry than street, but either way, it's pretty close. We definitely spent a lot of time on sleds and hiking this year, despite the snow struggles in a lot of places.
A lot of film crews experienced challenges this year due to the economic constraints and decreasing budgets from companies for sponsorship dollars, etc. Have you guys been impacted by any of this?
Oh wow, have we ever. We've always been stretching for the upper snow-vid tier, but of course we're still behind the big dogs like Standard, People, the team movies, and the like in the food line, so sponsor dollars have always been tight. However, we've never experienced anything like this. Our budgets have shrunk to next to nothing. And, the unfortunate truth is that we've been screwed pretty hard by a few non-pays in the recent past, which meant that "Montevideo" is largely funded by Autumn Line partners' personal bank accounts.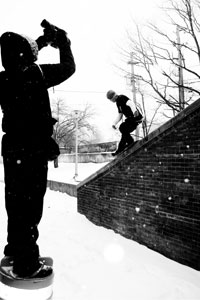 But really, now that I've ranted, we've got great sponsors and supporters, and despite a bad apple or two in the past, we appreciate them tremendously, even though purse strings are tightening like crazy these days. So yeah, the impact was definitely felt. Our travel budget was a fraction of what we've had in years past, so it took a lot of improvising on behalf of us as a production company, as well as our riders. A lot of couch hopping and coupon clipping went down all season long.
However, since day one, we at Autumn Line have always prided ourselves on making something out of nothing, and doing everything we can to make a top quality snowboard movie that everyone can enjoy, even on the smallest of budgets. So really, this isn't unfamiliar territory for us.
When the movie becomes available, what's the best way for people to get a hold of the film?
We're working with some of the best distributors in the world this year, so you should be able to find the movie just about anywhere that sells snowboard stuff. And in this economic day and age, local shops can really use everyone's support so we can all keep shredding. So, go grab a copy of "Montevideo" from you local shop come September.