As the most decorated athlete in X Games history by far (23 medals overall), Dave Mirra has earned at least one medal in each of his 13 X Games appearances. He also holds the record for most gold medals won by any X Games athlete at 14. Even though some of his fellow competitors were only four or five years old when he earned his first X Games BMX medal in 1995, Mirra continues to amaze, proving that he's earned every minute of his long reign and that he's one of the greatest riders to ever step on a bike.
While Mirra remains fiercely dedicated to riding BMX, he's recently developed another passion: racing rally cars. He started racing in late 2007 in the Rally America Series, joining another world-famous X Games athlete, Travis Pastrana, who had already crossed over from two-wheeled dirtbikes to four-wheeled rally machines years prior. Not surprisingly, Mirra managed to make an impact quickly, earning Rally America's nod for 2008 Rookie of the Year.
At X Games '08, Mirra made his debut in the Rally Car Racing event, and no one really knew what to expect. "All I wanted to do was win my first heat race," Mirra remembers. "I did that against Antoine L'Estage and I was super psyched."
Mirra's Quarterfinal race featured Andrew Comrie-Picard's end-over-end frontflip when he came up short on the 70-foot jump, pushing Mirra to the Semifinal. "To move on through that one was amazing," says Mirra. "These guys are all great drivers and they've been driving for years, so to get that far, I was set, that was fine with me."
Mirra met '07 X Games Rally Car Racing gold medalist Tanner Foust in the Semifinal and crashed into a barrier after overshooting the 70-footer, sustaining heavy damage to his Subaru. Dave was pitted against Ken Block in the bronze-medal match-up, but neither driver had a functioning car so they were awarded co-bronze medals.
At the start of 2009, Mirra joined Pastrana and Block, the co-founder of DC Shoes (who sponsors both Mirra and Pastrana), on Subaru Rally Team USA. "Being added as a third driver to the Subaru team is a huge bonus," says Mirra. "I'm going to put in everything I've got." Dave races the Super Production class (Pastrana and Block compete in the higher-spec Open class) and is sitting fifth in his class and ninth overall in the Rally America standings prior to the New England Forest Rally scheduled for mid-July.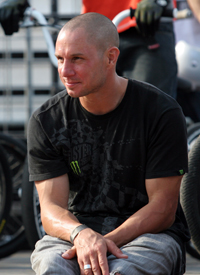 Back on the BMX front, the 35-year-old Mirra kicked off the 2009 Dew Tour season in June with a huge win in Park, his first victory on the tour since 2005. He says that he's been following a healthier diet since January '09 and has been riding his private warehouse facility in Greenville, North Carolina, every day, doing everything he can to stay on top of his grueling competition and travel schedules. "I'm really trying to re-organize and get my long-term plan straightened out," he says. "I want to make the most of the opportunities I've been given."
Although he's been riding without brakes on his bike "to keep things fun" since back in April, Mirra says they'll go back on when he makes his return to the risky Big Air event, where he earned a silver medal in his rookie Big Air appearance at X Games '08. He's also back in Rally and BMX Park for X Games '09.
Few could balance full-time careers in BMX and rally, not to mention family time—Dave and his wife Lauren have two young daughters—but Mirra is uncommonly focused and driven. He's very competitive, but more importantly, he is passionate about his pursuits. You don't earn 23 X Games medals without loving what you do, and Dave still has enough fire to keep the hardware coming. He's making it hard for any other X Games record-seekers to catch up (skateboarder Andy Macdonald is second on the all-time list with 17 medals overall), and judging by the way Dave's been performing lately, it's not going to get easier anytime soon.