The 2009 Maloof Money Cup has ended. But with all the insane skating that went down, all the debauchery and even some celebrity appearances, this is one contest people will be talking about for a long time to come. For now, we'll catch you up on everything you need to know.

World Industries Am Championships
The am championships at the Maloof Money Cup was seriously impressive. Some of the best am talent in the world showed up in Costa Mesa to battle it out in the exceedingly hot midday sun on Saturday, July 11th, 2009. I've got to hand it to the Skatepark of Tampa crew for really maknig the am portino of this comp run smoothly. Unlike the pros that get to compete in the decidedly more comfortable evening, these hungry ams put in work on a concrete course so hot you could fry eggs on it.

Tons of today's popular ams from Andrew Langi (who 360 flipped the Rincon replica big four block), to Manny Santiago ( who fronside shoved to backside feeble grind down the UCI rail replica), to Collin Provost made a good showing but the most consistent emerged victorious taking home gilded cups, massive trophies and even electric guitars for their efforts.

Two Orange County locs were given special "hometown hero" awards for being local and ripping all weekend long). Element's Collin Provost and Birhouse's David Loy were those locs.

Australian phenom and Skate Mental, Nike SB am Shane O'Neill won the Zumiez Destroyer Award for skating well all weekend long. He was awarded a sawzall for his efforts to further his stealth street efforts using the tool to take the knobs off unsuspecting handrails.

The one disappointment was an eager Vincent Alvarez who made it to the finals but couldn't take his runs for a shot at the top spot because he got stuck in traffic on his way down to the comp on Saturday. The top five who nabbed gilded cups, high fives and hugs from a very chesty-endowed hostess were:

5. Davis Torgerson
4. Abdias Rivera
3. Ryan Decenzo
2. Shane O'Neill
1. Felipe Gustavo



Pro Street Semi-Finals
The semifinals of street was an amazing afternoon. With each heat, the level of skating seemed to increase exponentially. And the surprise concert from Snoop Dogg hyped the crowd, as well. Yup, you read that right; the Doggfather blessed the comp with an impromptu concert. And that's not all. The Los Angeles Lakers' star player, Kobe Bryant made an appearance to cheer on his homeboy, Eric Koston. Beyond the celebrity hoopla, the real scene was out on the course where it seemed like gnarly and innovative tricks were going down every other second. Apart from the typical contest killers that you already knew were going to perform well, it was a real pleasure to see some standout moves from guys you might not associate with the contest scene. Tommy Sandoval attacked obstacles with his caveman instincts. He pulled a power move when he kickflipped off the big wall into the steep brick bank. Alex Olson was a crowd pleaser, skating fast and fluid. My personal favorite Olson move was his ollie up the 6-stair right into a proper frontside rock on the quarterpipe wallride. That thing has a minimum of three feet of vert and Olson's board was properly decked. That and his straight ollie over the back of the Rincon replica rail to backside 5-0 down it. Gnarly. Oh and Busenitz, dude. Dennis Busenitz averaged three more pushes to every obstacle than any other skater in the comp. And back lipped the entire three-stair ledge (maybe 30 feet long) going Mach 10.

Until the last heat, I was sure that this was Torey Pudwill's day. Torey's frontside flip over the Rincon flat rail was insane and he was nonstop on every obstacle in front of him in his heat. Then P-Rod skated. The reigning champ from last year's comp, Paul Rodriguez lit the course up in the final heat of the night, unleashing a slew of switch tricks down the rails and off the big four block gap. Paul's sheer attempt-to-land ratio of tricks was far and above any of his peers'. His placing at the top of the qualifying list was well deserved.

One thing I feel compelled to note: Pete Eldridge got ripped off. After squeezing his way into the semis when someone failed to show up, Pete went for it all day. Pete's pop, consistency and switch skills were lauded by the crowd and his peers. But, somehow, he failed to make it into the final 12. It seemed to this observer that a few skaters in the finals might have bigger names than Eldridge, but they didn't necessarily land as many ill tricks. Whatever. You're one of my favorites Pete. Keep killing it.


Pro Vert Semi-Finals
Vert semifinals had a solid showing from a wide array of U-pipe riders. The added wrinkle to the vert contest this year was the Mini-Mega ramp which lead into standard vert ramp via a corridor in the ramp that created a channel in the middle of one of the ramp's walls. Skaters who were feeling feisty could begin their runs by dropping in on the Mini-Mega and attempting tricks on its rainbow rail leading in to their standard runs on the vert ramp. Obviously, guys with Mega Ramp experience had an advantage on this setup and were certainly crowd pleasers. Though the Mini-Mega was less than one half the height and size of the Mega Ramps that have pushed the careers of Bob Burnquist, Jake Brown and Danny Way to new heights, the ramp was still nothing to scoff at.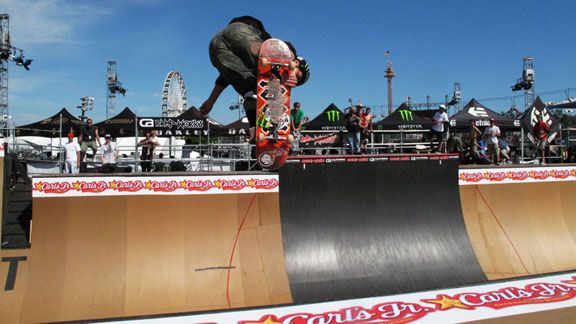 The semifinals had two segments. Skaters were given individual runs and then a 20 minute jam session. Bucky Lasek, Bob Burnquist and Rune Glifberg were going off. But the story of the semis was young Alex Perelson attempting to become the fourth person in the world to land a 900. Though he didn't stick one during the allotted time, he put all four wheels down on several attempts. Quitting while he was ahead, Alex committed to trying to spin the legendary trick again in the finals.

Street, Vert and Women's Finals
I'd hate to have been a judge for the finals for this thing. The level of skating and the amount of tricks that went down was beyond the beyond. Seriously, in those final jam sessions, insane tricks were being thrown down every other minute. P-Rod would pull a switch tailslide and Torey Pudwill would pull a nollie flip back lip right after him. Then Chris Cole would pull the first full-cab bluntslide down a rail ever done in contest history.



Men's Street Finals:
1. Chris Cole won $100,000
2. Tommy Sandoval won $30,000
3. Nyjah Huston won $20,000
4. Torey Pudwill
5. Ryan Sheckler
6. Sean Malto
7. Greg Lutzka

Some special awards were handed out as well. We had, the Tech Deck Best trick going to Adam Dyet for his kickflip back tail down the Rincon rail.

Then Zumiez Destroyer Awards were presented to a female and a male skater who killed the course all weekend long. For the ladies, that award went to Alexis Sablone and for the men, the award went to Torey Pudwill.

Honestly the girl's final was a little disappointing to watch. Though the ladies were trying some serious moves, not a lot got landed in the time allotted. It was anyone's guess who would take the win. The results broke down as follows.

Girls Final Results
1. Leticia Bufoni, won $25,000.
2. Lacey Baker
3. Elissa Steamer

With the addition of the Mini-Mega, the super channel and the ramp's other bells and whistles, the vert comp was more exciting than most of them usually are. It was great to see guys like Bob Burnquist, PLG and Bucky Lasek combining mega skills with technical runs. I can honestly say the stock vert runs of old were not cutting it in this contest. But the real story of the vert comp was young Alex Perelson who tied tech runs, big airs and some major, history making surprises to take the win. In the jam session, as part of his run, Alex became the fourth person in the world to land a 900. And he backed up that jaw-dropping move with the biggest backside 360 melon I've ever seen over the ramp's massive channel. The new generation of vert has finally arrived.

Vert Final Results
1. Alex Perelson won $75,000.
2. Pierre Luc-Gagnon
3. Bob Burnquist