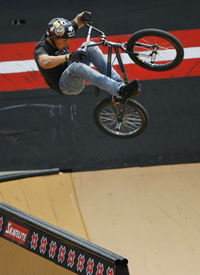 When
Scotty Cranmer
boosted over the spine at the Incline Club, his local park in Jackson, New Jersey, back in early May 2008, he immediately realized that his re-entry wasn't going to go very well. What he didn't realize, however, was that the broken left foot he suffered in the resulting crash would end up taking him off his bike for the rest of the year.
Injuries are part of the game when it comes to BMX, but most riders work hard to shave a couple of weeks' worth of recovery time off of doctor's orders so they can get back in the saddle as quickly as possible. Therefore, with the first major contest of the year not scheduled until late June '08, more than a few people expected to see Cranmer on the roster. Instead, he missed the season opener, and further complications with his recovery kept him on the sidelines as the contest calendar crept on.
Being forced off the bike isn't easy for your average BMX rider, and Cranmer set out on road bike rides with his cast on to stay in shape. A self-taught piano player, he spent a lot of time on the keys. The formal dining room in his Jackson home had long since been converted to a tight bowl for rainy-day sessions, so he got crafty and worked up the door to the room to resemble the entrance to a cave. The beginnings of concrete quarterpipes appeared in the basement. Downtime can be dangerous.
Luckily, the 22-year-old Cranmer has plenty of friends and distractions to keep him occupied. Back in April 2007, he and his parents opened SC Action Sports, a bike shop located in Howell, New Jersey. The building once housed the shop that Scotty frequented as a kid, and the deal included the BMX racetrack behind the shop that he used to race on. Cranmer's also quite the car buff, forever tweaking the Mitsubishi Evo and the three Nissan Skylines that sit in his driveway. Still, the main thought racing around his head throughout 2008 was, "When can I start riding again?"
He started testing the waters in November. "We had a jam at the skatepark, so I was like, 'Screw it,'" he says, obviously tired of laying off the tricks for so long. "I didn't get full confidence back until January, though; that's when my foot started feeling normal again."
Since then, he's been back on a regular riding schedule, and he says the huge tricks and complex technical combos he's known for have all come back fairly easily. He was even able to teach his 11-year-old brother, Matty, a few new tricks for Disney's new action sports series, "Next X," which premiered on June 8. Scotty was one of five athletes, including fellow X Games BMX competitor Van Homan, brought in to mentor young riders and skaters for the series. "We got to hang out at Woodward camp for the filming," Cranmer remembers, "and we had a blast."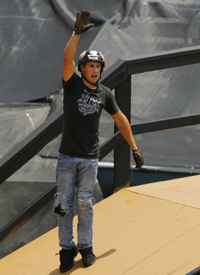 Shortly after, Scotty walked through the doors of his old high school, Jackson Memorial, and spoke to the students about the importance of setting goals. "I told them that when I was in high school, I wanted to be a pro BMX rider," he says. "That was my goal, and obviously I was able to make it happen." He then got a chance to enjoy the spoils of his hard work, getting whisked away to Japan in May for demos set up by his shoe sponsor, Vans.
He rode hard throughout June. "I've been playing it smart so I can actually make it to the contests this season," he says. With three X Games Park medals already in his trophy case (silvers from '05 and '07 and gold from '06), he's eager to return to Los Angeles and give the defending gold medalist, Daniel Dhers, a run for his money. "It kills you when you can't be part of something like the X Games. Being a spectator just isn't the same; I'm anxious to get back out there and be part of the fun."
Before his injury, there were plenty of rumors circulating about what Scotty had learned over his winter '08 practice sessions, so his return to the contest scene is an eagerly anticipated one. "I got the majority of my tricks back and then some," he says. "I've been riding really well lately; the break was actually good for me. I'm looking forward to seeing how this year unfolds."