Last year, Ronnie Renner sailed his KTM 59 feet, 2 inches into the Santa Monica sky, setting a dirt bike quarterpipe height record at the Red Bull Experiment. Renner is back for more, but this time it will be bigger, better and in against a downtown Chicago skyline. I hit Renner up with three simple questions to find out exactly why he's doing it, why he's doing it in Chicago and what could possibly be next. Stay tuned to ESPN FMX as we'll be keeping you updated on all Red Bull High Rise developments.


Why are you doing this?

I guess there are a number of reasons. I don't even know where to start. I guess I'd have to say that the number 1 reason is that I really wanted a chance to do something bigger than last year. You know, I'm still living off of some of the high that last year gave me at the Red Bull Experiment in Santa Monica, but I knew that I could make a couple of small changes to the ramp angles and get more comfortable and in turn go hopefully go bigger. I really want to keep the quarterpipe around in FMX, so since I'm not doing standard FMX comps anymore, events like the Red Bull High Rise make it possible for me to do my thing. It's just one of those things that keeps me motivated and fulfills the need to go big.

Why Chicago?

Well, I wanted to get the heck out of BroCal for starters (laughs). Seriously though, the only stuff that I want to do around Southern California is freeriding and X Games. SoCal gets its fix of action sports, but the rest of the country wants a bit of action for itself. When Red Bull and I started talking about locations in the Midwest, we immediately agreed that Chicago was the only choice. It's a killer town that knows how to have a good time in the summer, especially on Venetian night. I think Chicago is an awesome city. I really wanted to have a killer, distinct skyline in the background, so that it looks like I'm skying above some "High Rises". My favorite band is Rise Against and they are from Chicago, so the name works perfect. I just wish I had the pull to get them to play after the event - that would be rock star status for sure!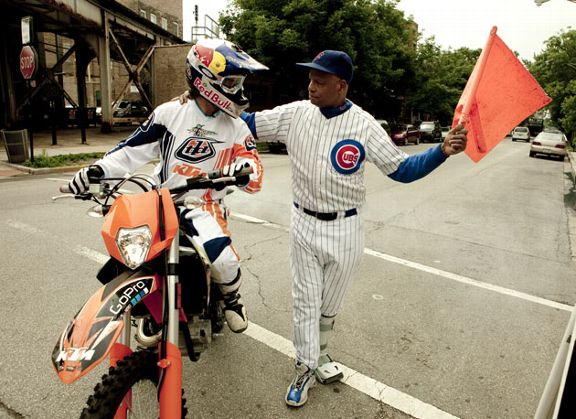 What can possibly be next?

Who knows man, I'm not as crazy as Maddo to come up with all these crazy ideas. However, anytime Red Bull will let me set this quarterpipe up, I'm down to do an event. Seriously though, I still have my eyes on the whole freeride and TV world when it comes to my future projects — that's where my soul is. I think the MX community is hungry for some stuff that they can relate to versus the stuff that they can't even comprehend, like FMX. Trust me though, with Red Bull being the raddest and most original company with the nuttiest athletes, there will be plenty of wild stuff on the horizon. I'm just stoked they don't totally rely on me for that stuff!

I hope to see everyone out at Butler Field on the afternoon of July 25th. I plan on getting my KTM upside down and smashing that record, so be there or be square!