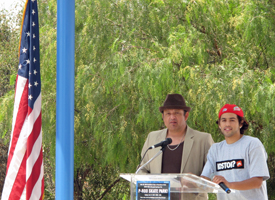 On June 21st—Go Skateboarding Day 2009—
P-Rod
along with Nike, the LA84 Foundation and the LA Parks and Rec opened a new park with recreated spots co-designed by
Lance Mountain
. There's a Griffith Park imitation, a Sylmar rail revival and granite ledges for days. It opened at the Ritchie Valens Recreation Center with
Paul Rodriguez Sr.
running wild like he had free reign on open mic night. Here are some of the going-ons, photos of the new park and a list of the best comments
Paul Sr.
made all day. Click read more to see video and photos.
1) Introducing
Shane O'Neil
off-the-cuff,
Paul Sr.
said
O'Neil
was from Ireland (maybe because of his last name, but
Shane O'Neil's
from Australia)
2) While introducing
Reese Forbes
said something to the effect of (and I'm paraphrasing),
Reese Forbes
...we're happy to have him on the team. He's an amazing skateboarder, although I haven't really seen him skate.
3) When
Janoski
walked up to the stage to be introduced,
Paul Sr.
said, "In his spare time, he likes to impersonate
Ringo Starr
."
4) I hate to beat a dead horse, but E'erybody be likin'
Theotis Beasley
(
Paul Sr.
didn't say that. You could just hear it in the crowd). It's what you can get for staying positive, kids.
5) Another funny moment was when they brought
PRod
on stage and opened up to questions from the crowd. "Can I have a bearing?" one kid asked. Another one, dressed in a Riddler cape held up his shoe. "I need a new shoe," he yelled. P-Rod smiled, shook his head and said, "Wait a minute. These aren't exactly questions." They shut down that Q&A real fast after that.
6) After the grandstanding, they did a short demo.
P-Rod
killed it and
Danny Supa
tried to put down some tricks. Meanwhile,
Paul Sr.
was running around throwing out jokes. At one point, he called
Danny Supa
Mr. Clean
and asked him how long he's been impersonating
Lex Luther
(all in good fun).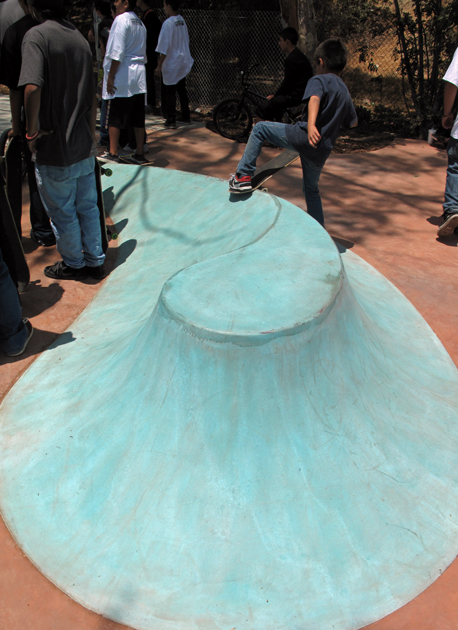 7) Lastly,
Paul Sr.
quipped, so truthfully, "If any of you happen to have a son that you can borrow money from, I suggest you do it. It's great."
It was a fun event and swarming with people, which only proves the importance of the park. Not only does it look amazing, but in a place like Pacoima, CA, it's not only nice to have, it's a much needed outlet for kids who have a lot of opportunities to get themselves into real trouble (and I'm not talking about typical suburban trouble, I'm talking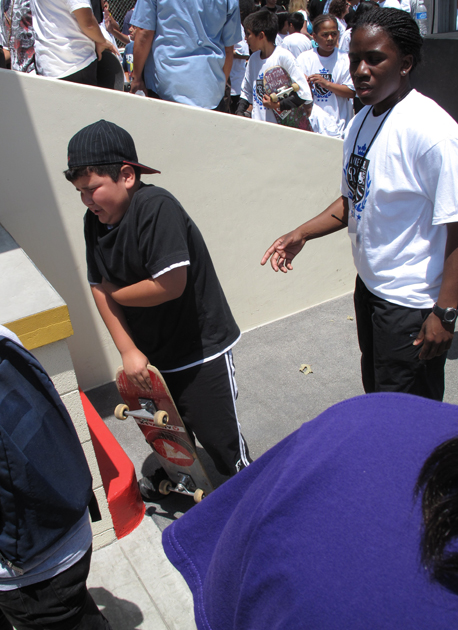 about drugs, guns, gangs and all the legal trouble that comes along with them). It was great to see Paul Sr. and Jr. interact, because Sr.'s such a continuous joker that Jr. just lays back and stays quite. You can tell from seeing him with his father and working on projects like this that he's very much his mother's child. Nevertheless, there would be no
Paul Jr.
without a the comedic
Paul Sr.
, so was a nice Father's Day celebration to see them working together for a good cause.