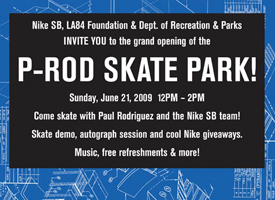 People questioning Nike's share of ramped up involvement in skateboarding (in some ways rightfully so) over the last decade might be swayed from their apocalyptic point-of-view by the continued investment Nike's putting back into skating. Instead of their previous ad campaign questioning society's unfair view of skateboarding, they, along with P-Rod and the City of Los Angeles, have put their money (and time) where their mouth is with their latest park, set to open on Go Skateboarding day (to get more details about the opening and read more about the park, click read more)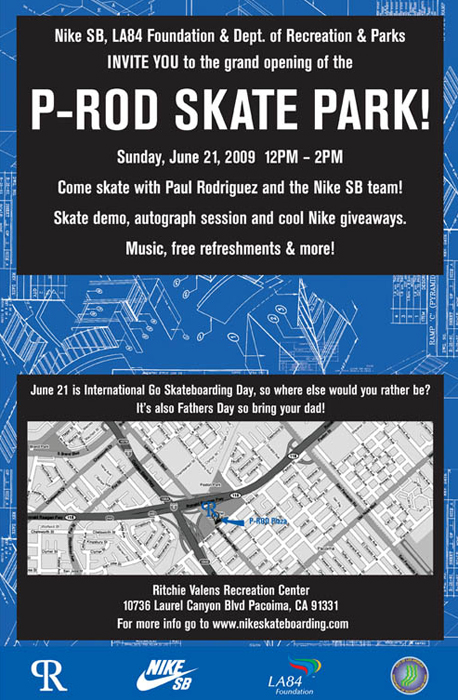 The park will open on Go Skateboarding Day June 21st from 12 pm to 2 pm. There will be a skate demo, autograph session, Nike giveaways, music, free refreshments and more according to the flyer. The park was made to incorporate real skate spots, to some degree. "If you wanted to, you could film here," P-Rod said, "—there is no difference between the park and a real spot. For example, the ditch at the end of the path is a re-creation of the Griffith Park run-off ditch, and the blue handrails in the plaza are replicas of the nearby Sylmar rails that are no longer skateable." Lance Mountain also helped co-design the park and sums up the park's concept as follows:

The process starts by thinking the way most street skaters feel about skating: skate to a spot, have a session and then move to the next spot. The challenge is to build a place where skaters can hang out and feel like it's a real session in the street or schoolyard without getting kicked out. And if you want to film there, the photos and video should look like a real skate spot. Just freedom—you should not feel like you were being punished or senteced to skate here."

The park is located at the Ritchie Valens Recreation Center on 10736 Laurel Canyon Blvd. Pacoima, CA 91331. If you're in the area, make it out.