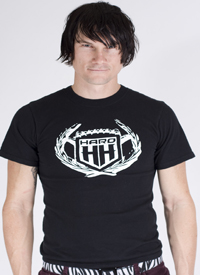 I'll be honest. I've known that
Colin Mackay
has been an awesome bike rider for a long, long time, but past the usual "Hey, what's up" pleasantries, I don't know too much about what makes Colin tick. But I know he's my friend on Facebook, and because of that, I decided enough was enough. So I gathered up the 'At Random' set of questions and asked Colin if he was up to answering them. And within a few days of that, it's safe to say that I know a little bit more about Colin Mackay than I thought I had. This is Colin Mackay,
At Random
. Enjoy.
Your favorite BMX trick is? Boosting a flatty.

The last person you called was? Allan Cooke, Haro Brand Manager.

List one word to describe yourself: You shouldn't talk about yourself.

What's one thing you regret? None yet.

The last thing you listened to was: Rose Tattoo, old Aussie band.

Your best friend is:
Kelly.
Something you wish you had more of: Coins.

Something you wish you had less of: Bills.

Your biggest fear is: Being injured.

The thing you love the most is: Simple BMX tricks. Fun.

The thing you hate the most is: Dew Tour bangers. Scary.

A nickname you have is: Mackez.

What shoes are you wearing right now? Vans Guettler Whip 3s, grey and black.

One thing you could do without would be? This house in Greenville (I want to move!)

The best advice anyone has given you? I pretty much went against all advice I was given. Left school early, had average jobs, rode my bike past the age of 18, bought a house in America and got married before I was 30.

Your biggest dream is to: Be happy.

What's one thing you'd like to do before you die? Live in Europe.

Most important possession you own is? My Contracts.

One person you'd love to meet is? Ned Kelly.

Last thing you'd like to say is? Live it, crank it, smile.

Also just found the above video on YouTube. It's really good. Check it.
xgames.com