[+] Enlarge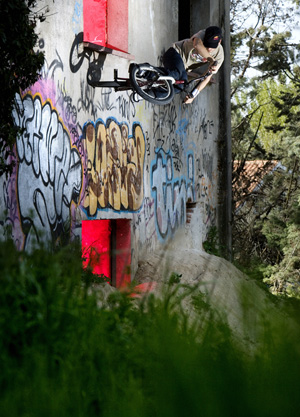 Rider: Sergio Layos | Photo: Rutger Pauw/Red Bull Photofiles | Location: Madrid, Spain

A few years ago, Fly Bikes' Sergio Layos qualified for the X-Games, flew to L.A. and didn't have a hotel room. I was sharing a room with Etnies TM John Povah, who lived local at the time and didn't need the hotel room, so we put two and two together and handed over the other hotel room key to Sergio. For about five days, I would get up late and stumble back extremely late after going to whatever X-Games party was that night.
Meanwhile, Sergio was calm and quiet, waking up early, going to bed early and reading in his spare time. Basically, I felt like I was probably annoying him to no end. But at the end of the week, Sergio took off with Povah to drive to Austin and said that it had been a pleasure to share a room with me. And I thought to myself, "Man, that dude is cool."
This has nothing at all to do with how amazing of a bike rider Sergio Layos is, but I just wanted to say that if you're ever looking for a quiet, courteous X-Games hotel roommate, you can't do much better than Sergio. Plus he can do stylish wallrides.


xgames.com