You know those comments you can leave on Facebook and everyone can reply to them? Well, I figured that they can help make the blog somewhat more interesting. So the other day, while I was wasting away my final minutes of the day, I logged onto Facebook and posed another question to the BMX people I'm friends with. Here's how it went: What kind of bike (brand, top tube length, etc.) do you ride and why?
Almost immediately, the replies started coming back, and by the time I woke up, I had 40 replies from all over the place, demonstrating a few things. One is that there isn't one brand out there that seems to dominate. Two is that there is not one specific setup out there that seems to dominate. So even though everyone might think that the current flavor of the day is a long, low frame with big bars, low seat, short back end and steep front end, that isn't always the case, at least among the random group that replied to my Facebook poll. Granted, my question may have been posed to a slightly older and more flatland prone audience, so don't take this as the final word. But it is interesting regardless. Read on and check out the replies. And if you missed out, register and comment below.

Jonathan Lucero: I use a Federal Hamilton 20"tt.
Joe Stakun: I ride a 20.5 FBM Howler. Because I was too impatient for a 21 inch to get in stock.
Prasheel Gopal: WTP Sinus, 19.1" TT...because it's purty.
Andrew White: Sunday Ian Schwartz bmxfu edition. 20.75. Nothin beats a Sunday frame!
Dave Pawson: Bulldog 21"tt. I like having space I suppose. I can't run 177mm cranks.. 180s all day.
Dustin Delva: FitEd 20.75, 2.1/2.25 tires, 4 pegs. Love the feel of fat tires, the frame size fits me perfect, and being able to grind on all four is also lovely.
Josh Klavir: Kink Transition, 20.75, 4 pegs 2 brakes, quick release seat post clamp. Good size bike for comfort and stability while not being too unwieldy, 4 pegs and 2 brakes for flatland whims and an adjustable post height to ride around without killing my back, then drop the seat to session.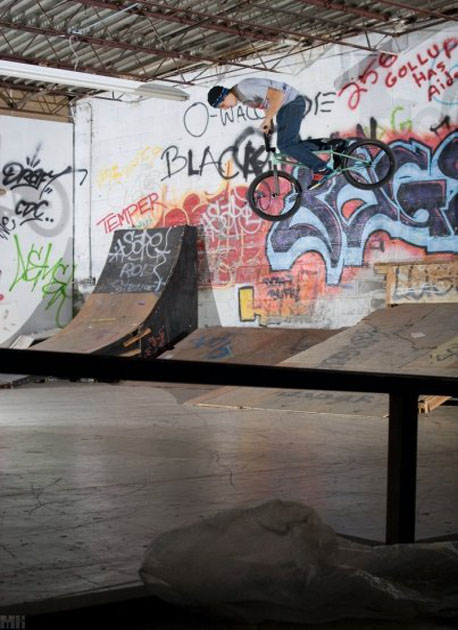 Dominic Biro
: 20.75"tt S&M LTF, I really like the quality of their frames, and all of the little details on it. I would build my own frame, but the frame jig is more work than building the actual bike frame.
Rafa BMX: Haro F4 Series, 20.5", gives me good grip and good space for other tricks.
Christian Jay Sienkiewicz: Steven Hamilton Federal Pro 19", cause he gave it to me. And I'm not that tall. It's a simple design, and it's light and Federal is dope.
Wade Young: Hoffman Loyalty, 20.8"tt.
Dane Wild: Whatever is 20.5" because I know no different. 11.5" B/B height because it helps with manuals and the lowerback, and a big rear end (14 3/8") because I like big rear ends.
Mike Kuhn: WTP Lofi V2, 20.75 because I like the geometry of the frame.

Justin H Long: WTP A2B 20.8"tt custom teak and holly plywood gussets. I'm fighting my way back to a 21" slowly but surely. WTP because they have never let me down.
Nick Seabasty: 21"tt Fit Dak. Fit/S&M are the only frames I've found dependable that also feel good. I love the detail that goes into them.
Tom Haugen: Free Agent Crown Imperial, 20.5" top tube. No idea what the rest of the frame is. I ride that size cause that's what it comes in.
Raul Ontiveros: St. Martin ClassX 18.1"tt, 16t sprocket, 145mm crank, 32 spokes rims, 9t Geisha. Yesssssss shorty.
Jeff Kennedy: Fit S3, 21"tt. I'm like 6' 3" and like the geometry. I've had this one for almost two years.
John Supes Skvarla: Fit Van Homan 21"tt. Because it has the 14.25" back end, it's good for balance over big jumps. It keeps the dead sailored triple pump noses dive and the accidental hannahs to a minimum.
Ryan Humphrey: Fit Aitken. I went through a tough time and had been studying a lot about the mythology of the phoenix rising from its own ashes. It is a similar story throughout different cultures spanning the globe. Anyway I saw the firebird embossed in the headtube at a local bike shop and knew that was the frame to get. Fate even. 21''tt, although I could go as low as a 19'' if they made it.
Steve Swope: T-1 Ruben frame, 20.8"tt because Joe and Ruben are awesome people and Joe told me I would ride more like Ruben on his frame. So far my skids are excatly like Ruben's skids, I'm working on everything else.
Asmar Thomas: Federal 1066, 20.5"tt are easy to three on.
Kurt Sparandero: 21"tt S&M Stricker
Brian Rybak: Dieringer. Local custom builder. 19 3/8"tt.
Eddie Chan: 19" toptube frame from Function.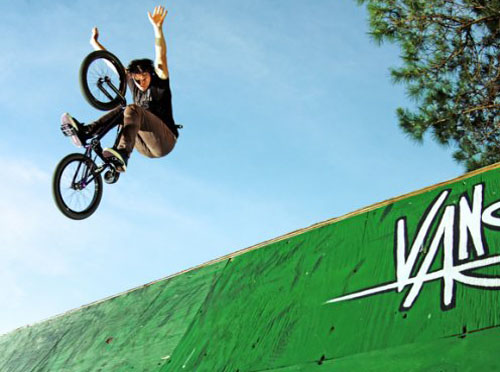 Colin Mackay
: Haro Convert, 21"tt. 26-9 gearing. 180mm cranks. 28" wide bars.
Jimmy Rathbun: Kink Empire, 20.5"....whoa sorry, stuck in 1998. Sunday 2nd wave, 21"
Ross Brownstein: Proper Proclaimer, 21 1/8" set up pretty long cause I'm tall and can control 360s better with a long bike.
Jonathan Edwards: Proper TTL V3, 21.5"tt as there is plenty of space but it still twists good. It's low but not too low and the backend is perfect. Just watch Miller ride it.
Roy de Guzman: SickChild Instrumental 18.25"tt for flat/Federal Fraction 19"tt for flat/park/street.
Todd Breau: I ride a 21 inch S&M Josh Stricker frame with Odyssey and Animal parts.
Paul James: I'm 6'4", I ride a 21" and always have ridden a 21".
David Ghandi Hall: One of those ice cream flavored 21" Sunday 2nd Wave's without rainbow sprinkles. 25-9t. Odyssey, Animal, FSA, KMC parts.
Brien K: 20.75 T-1 Barcode. Custom 21" FBM on the way. Always been loyal.
Tom Arkus: Sunday Model D, I ride trails, it's a sweet brand new trail frame. Reminds me of a T-1. It doesn't flex like some frames. The tubing is nice and thick. The geometry is perfect on it. Plus Jim C. is a sweet dude!
Morgan Gleave: S&M OG Dirtbike, 19" TT, VERY old, but solid and suits all the riding I do. Mostly Flat, but with some street and park for good measure. S&M's just seem to last forever. My next frame will be an LTF, if I ever get the cash!
xgames.com